Choosing the right business accounting software can be a real game-changer for your business as it eliminates the hassle of keeping your books compliant at all times. Besides, automation helps manage repetitive tasks with sheer ease. Cash flow optimization and increasing profitability always top the priority list of every business, and that's why you need simple accounting software that makes your team proactive.
Various business accounting software
Whether you are a startup, small business, or an established enterprise with a large workforce and footprint, you need accounting software to continuously monitor the financial health of your business. Having accounting software at hand also gives you key insights into your business through reports.
Accounting Software based on the type of operation
Based on the types of operation, accounting software can be classified as,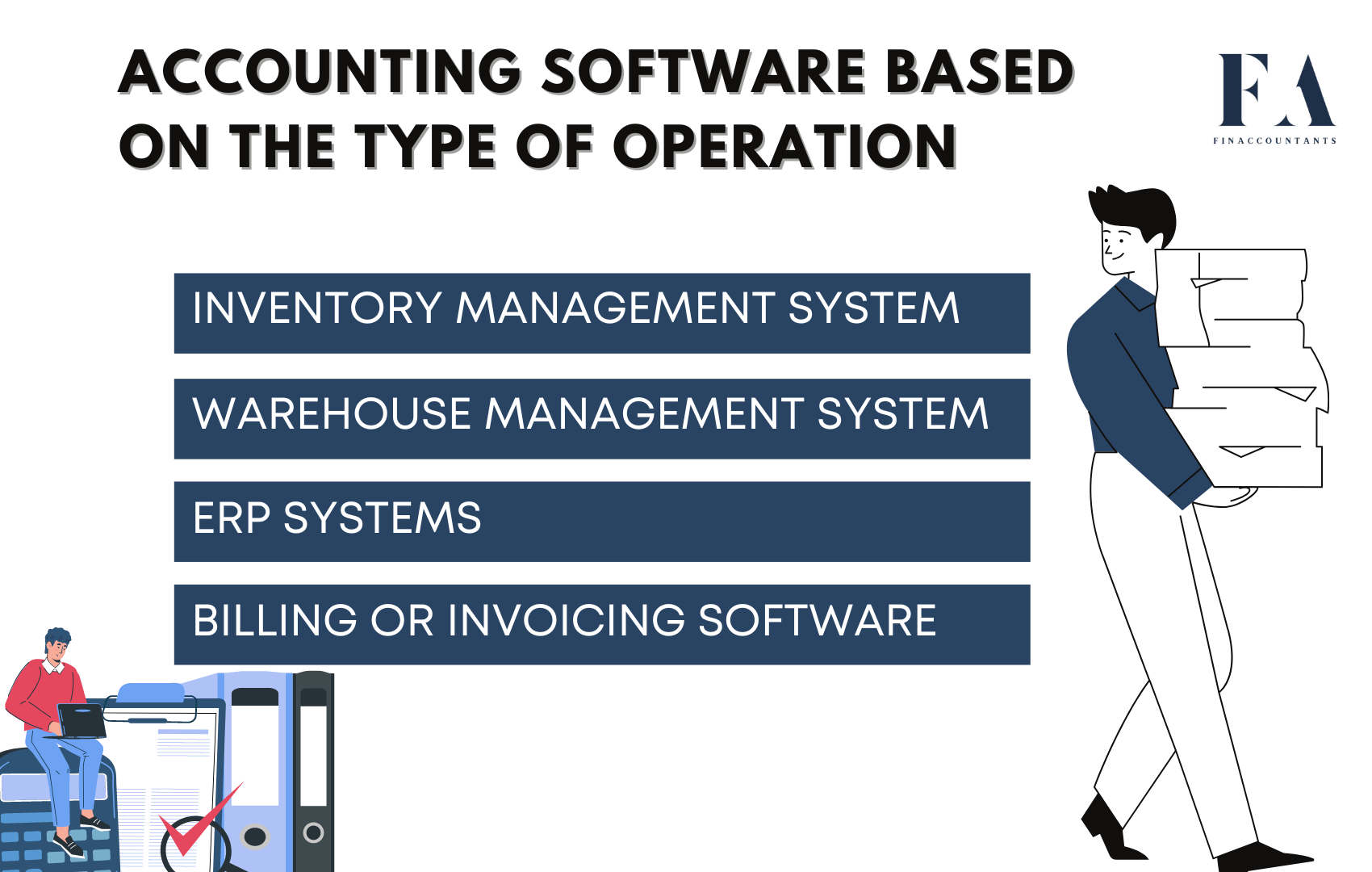 1. Inventory management system
Optimize your inventory and empower your business with data-driven decision-making. Improve forecasting as inventory management software handles data collection and provides key insights into trends. Automation of manual tasks is another major benefit, as barcode & RFD scanning can speed up stock-taking, receiving, and fulfillment. Besides, you get greater visibility with real-time data and scale up your inventory as your business grows.
2. Warehouse management system
Your business can leverage the power of a robust warehouse management system and improve operational efficiency. Monitor the work processes of your business at various levels and enhance asset utilization apart from enhancing productivity. By using a warehouse management system, your business can optimize warehouse flow by accurately analyzing the floor space. It will also result in cost-savings as time-consuming movement reduces quite significantly.
3. ERP systems
ERP systems are designed to manage the operational aspect of your business, which could include product planning, inventory management, distribution, accounting, finance, marketing, and even HR.
4. Billing or invoicing software
Apart from managing the company's day-to-day tasks, this type of accounting software comes in handy in managing the company's basic billing. It can also be used for informing the customers about the dues, due dates, and cheque writing.
Integrating sophisticated accounting software with a warehouse management system helps the warehouse & inventory management industry a huge deal. It helps generate accurate financial reports by reducing errors. Also, tax compliance is another major benefit of using accounting software in the warehouse management industry.
Similarly, the hospital industry can hugely benefit from accounting software as it would make administrative operations more efficient and organized than ever before. Also, claims management becomes a cakewalk because the software automates the data import process and report generation from the billing process to claims scrubbing and standardization. Managing and tracking patient information also becomes hassle-free, which enhances the patient experience.
The eCommerce industry is quite competitive, and it can leverage the potential of eCommerce accounting software to improve data accuracy, efficiency, sales, and revenue generation. You can easily eliminate redundant processes and rationalize accounts receivables and accounts payables.
Other Types of Business Accounting Software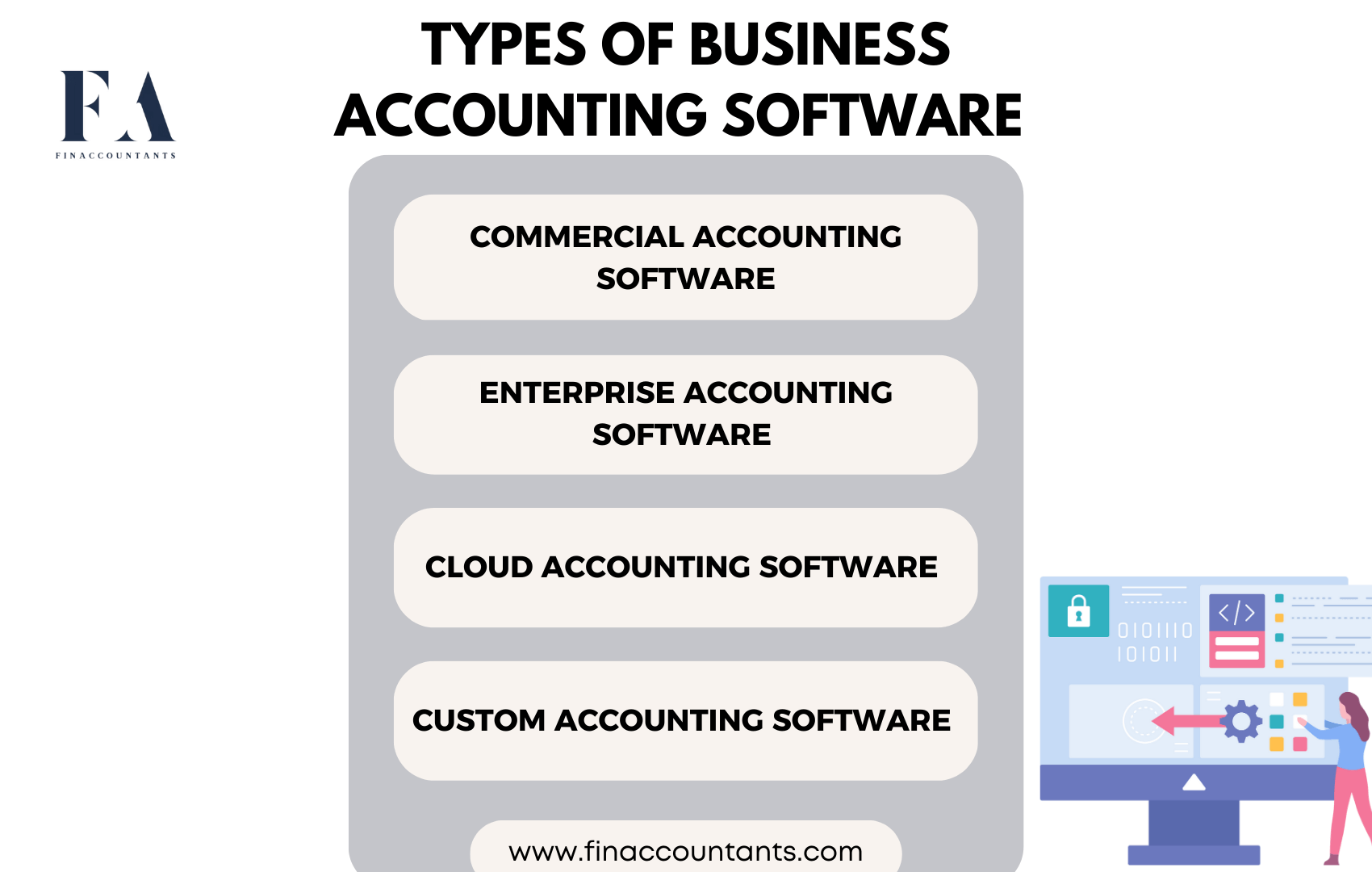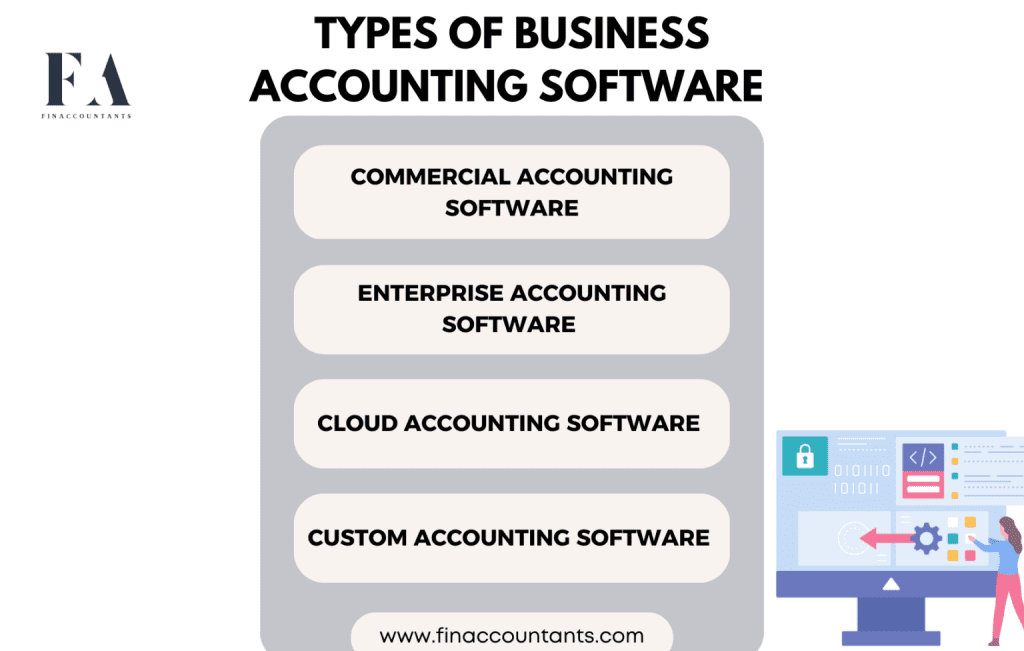 1. Commercial accounting software
Commercial accounting software is considered useful in managing the accounting needs of small as well as middle-sized businesses. Customizable to a high degree, this accounting software type automates and streamlines your financial responsibilities.
Scheduling and distribution of reports have also become a breeze with this small business accounting software.
2. Enterprise accounting software
As the name suggests, enterprise-grade accounting software is apt for large-sized businesses and their complex operations. Owing to its integration capabilities, you can simplify the core functions of your enterprise, including workflow management, vendor management, and customer relationship management, to name a few.
3. Custom accounting software
Scalability is a major plus of custom business accounting software. As your business grows, your accounting needs change, and you want your software to match those rapidly changing and growing needs. Having custom accounting software is necessary for every big-sized business when commercial or simple accounting software no longer fits the bill.
4. Cloud accounting software
Also known as online accounting software, cloud accounting software is stored on a distant server. As a business, you do not have to set up individual PCs with software, as you and your team can access cloud-based accounting software anytime from anywhere. It equips your business with a variety of tools, such as customer relationship management, business intelligence, invoicing tools, and data backup tools, to name a few.
Advantages of using business accounting software
Using business accounting software offers a myriad of advantages.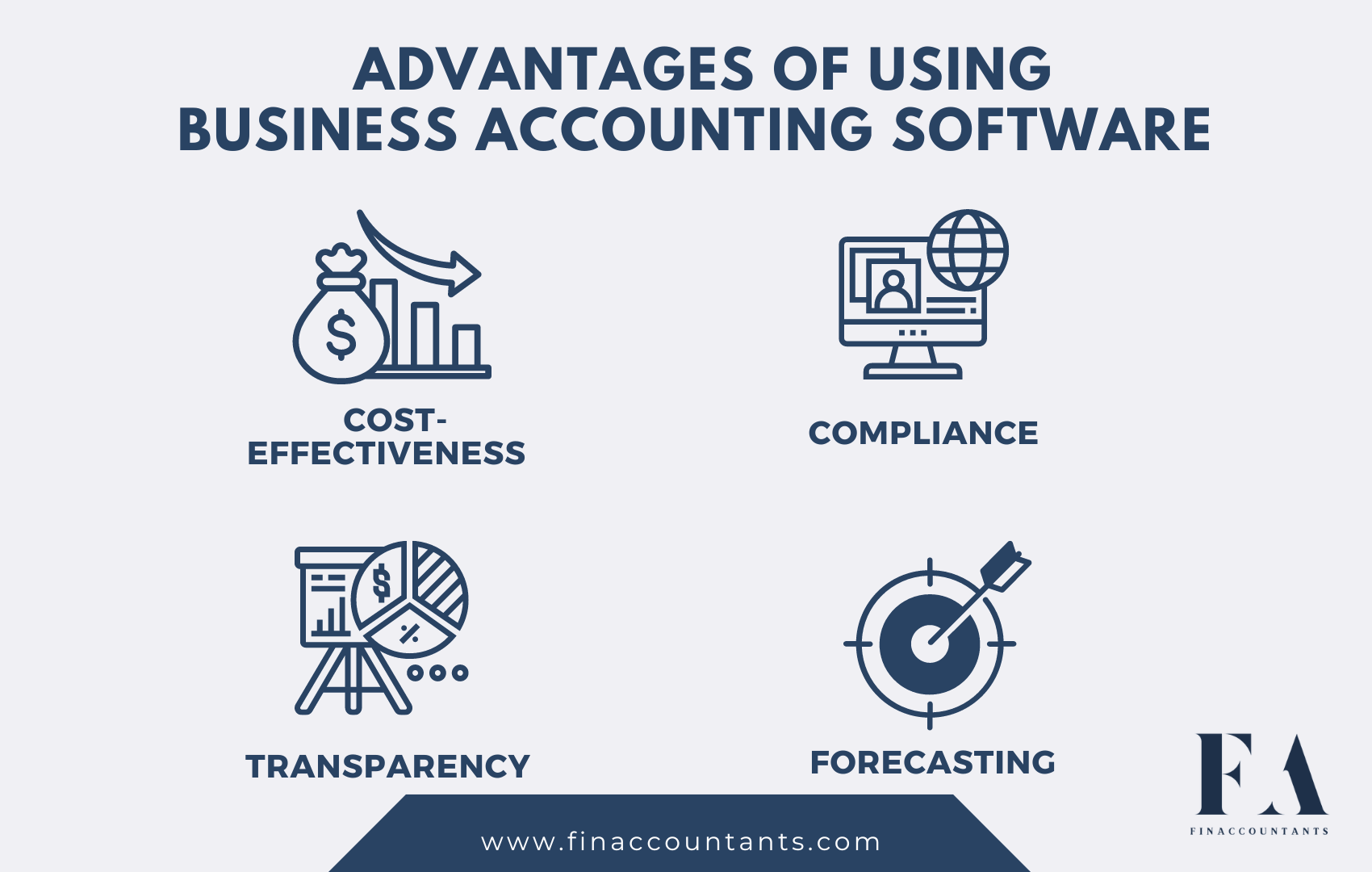 1. Cost-effectiveness
Cost-effectiveness is one of the major benefits of using accounting software. Most of the administrative procedures and calculations are automated. Besides, document printing & distribution costs are also reduced. Seamless integration with Gmail also allows you to share accounting statements and ledger copies.
2. Forecasting
Accurate forecasting helps businesses make well-informed decisions as they come to know where to invest and where to save. Resource allocation and creating strategies also become easy with accounting software.
3. Compliance
Businesses can avoid penalties by using accounting software that automatically complies with taxation laws. It is pretty easy to activate the statutory information and get started with it.
4. Transparency
Human errors can be very costly for your organization, and good business accounting software enhances transparency by automating calculations. It becomes easy for you to report data crucial for finance audits.
Conclusion
There is no doubt that choosing the right accounting software type is crucial to keep your business's financial health in good shape. There are different types of accounting software available in the market. Whether you are a small organization or an established one, FinAccountants can empower your business with custom or enterprise-grade software depending on your needs.