Cash is to business what oxygen is to the human body. No department of an organization can run without funds, and if you want your business to be successful, you gotta be an expert at cash-flow management. Turning a blind eye to cash flow management will only lead to losses your business eventually pays the price for.
Maintaining proper cash flow is indispensable to the smooth operations of your business and tax filing. Before we get into the nitty-gritty of cash flow, let's first understand what cash flow is.
What is cash flow?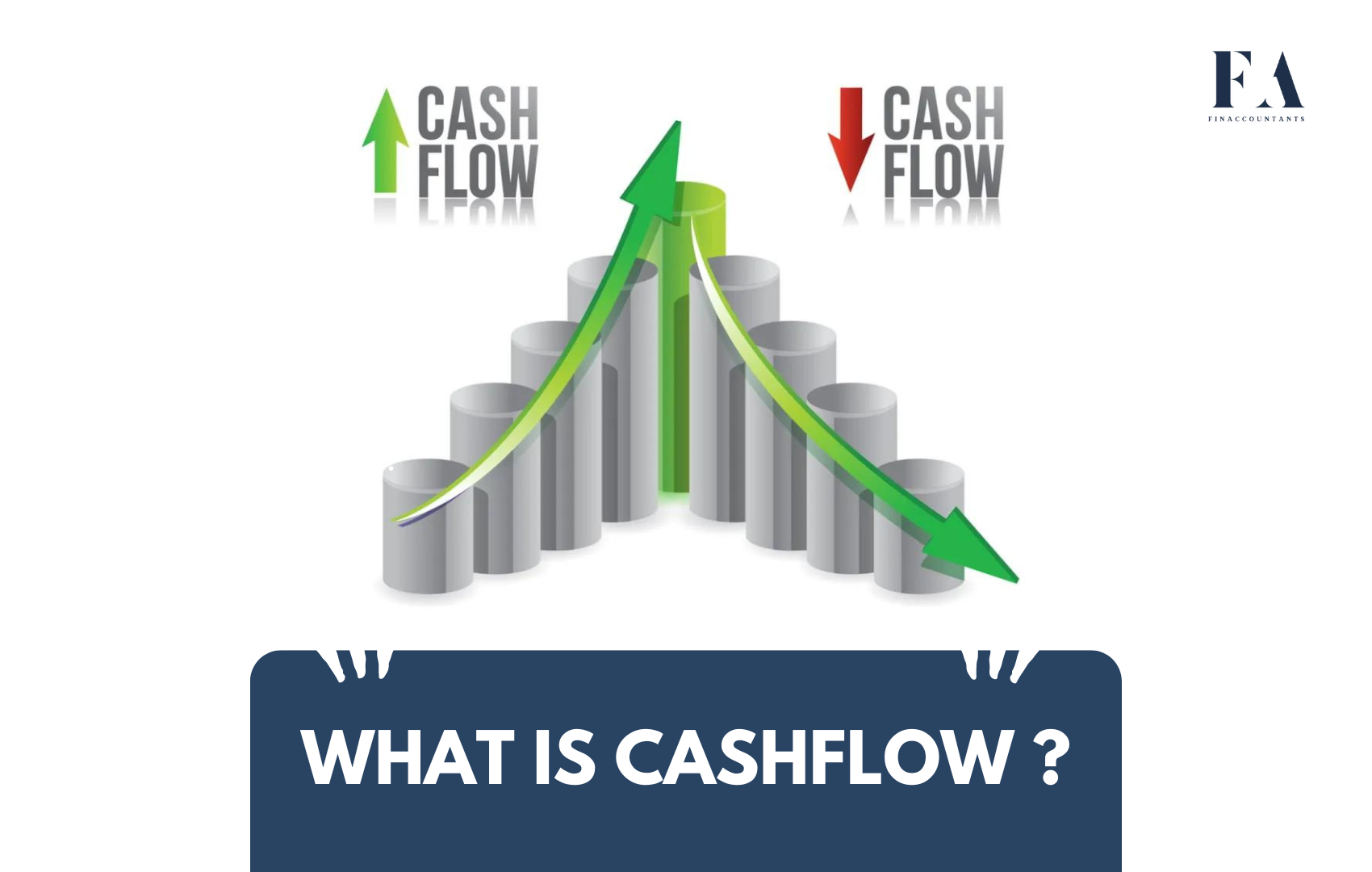 As the name implies, the cash-flow statement gives you exact details of your company's cash flow. Comprising two major components, cash inflow, and cash outflow, it helps the business plan its investments wisely.
Also, it is different from the organization's profit as it doesn't refer to the fund that's left after subtracting your business's expenses from its total income.
Cash Flow Management Explained
What is cash flow management?
It is the process of tracking how much money comes into or goes out of a business. For this purpose, your business needs to monitor, analyze, and optimize the net amount of cash receipts minus the expenses.
Cash flow management helps your business effectively manage finances so that there is enough cash to grow. It helps track and coordinate your company's past, present, and future expenditures. Your business is also able to mitigate the risk of closure and keeps sufficient funds for future investments.
Now that we know what cash management is let's quickly glance through the benefits of cash flow management.
Advantages of Cash Flow Management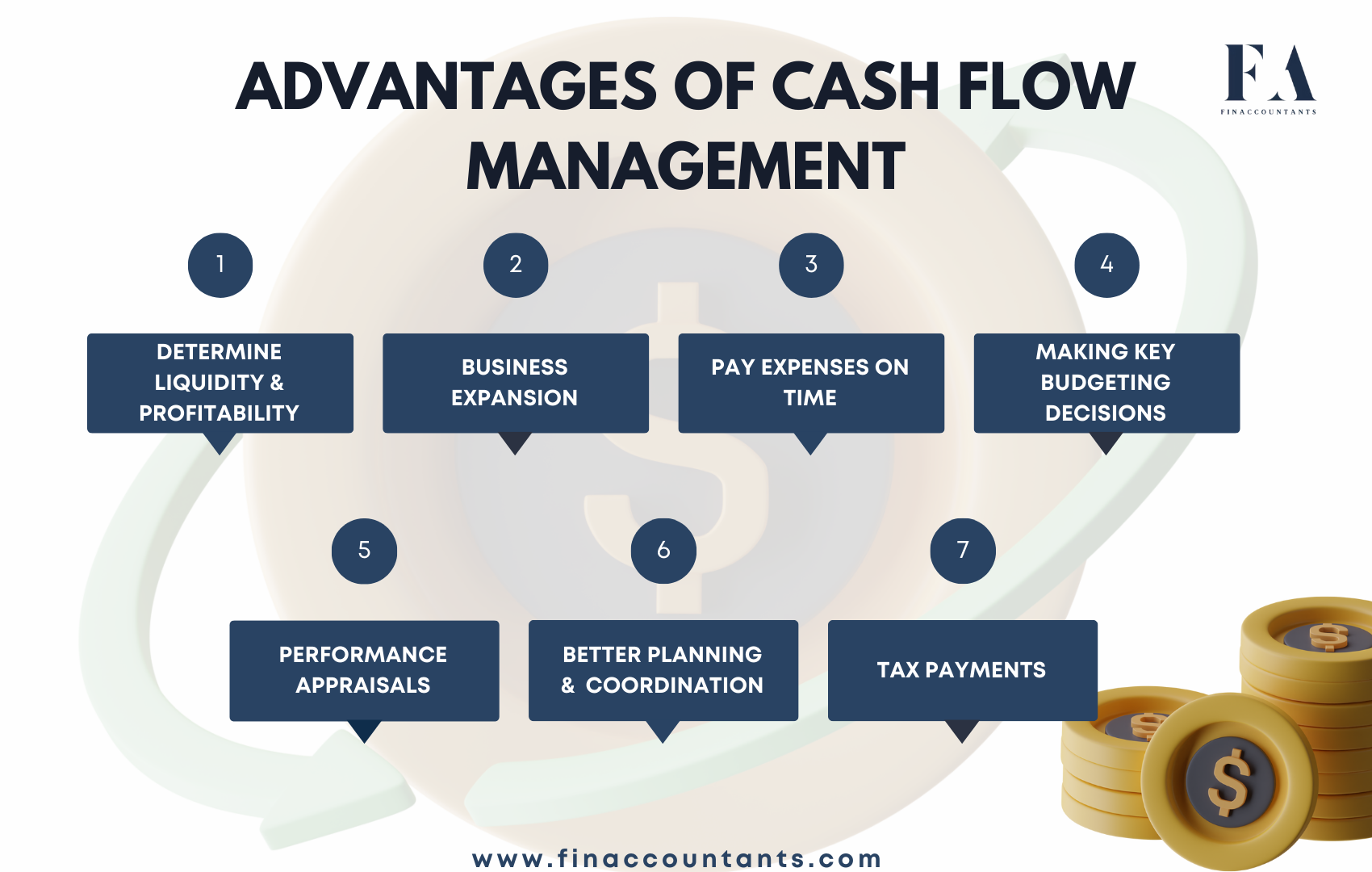 1. Determine liquidity & profitability
By monitoring profit and loss statements, you can establish the profitability position of your company and determine liquidity. Liquidity refers to your organization's ability to settle the debt as soon as it gets due.
The cash flow statement of your business depicts the present cash position, which helps determine liquidity as well. In the process, your business can also determine any cash deficits so that you can arrange for the cash before your payments get due.
2. Business expansion
The cash flow statement of your business helps find out the ratio between income and expenditure. Moreover, it helps determine the company's existing economic and financial position.
After analyzing these records, you can choose to make investments, such as buying shares, to expand your business.
3. Pay expenses on time
Identifying your organization's total expenses helps you plan your business better. The cash flow statement of your business contains vital information about your company's expenditures. While some organizations make yearly calculations, some do it on a monthly or quarterly basis as well.
4. Making key budgeting decisions
The development and growth of your organization cannot be imagined without budgets. Cash flow statements help prepare the annual or quarterly budgets of your organization. By doing so, sufficient money can be allocated to different aspects of the business.
5. Performance appraisals
An organization is in the position of appraising performances only if it finds a favorable relationship between the actual and anticipated cash flow. Your accounting department calculates the ratio between the organization's actual cash flow and the projected cash flow.
6. Better planning and coordination
The absence of proper planning leads to disastrous failures. Knowing the flow of cash helps the management team plan and make the most of investment opportunities to generate maximum profits for the organization. Needless to say that the cash flow statement plays the most important role here. Besides, the preparation of financial budgets for the coming years also becomes easy.
7. Tax payments
Submitting income tax returns is also an inextricable part of the business for which you need exact details of your income and expenditure. A properly chalked-out cash flow statement makes the auditor's life easy. The report generated in the process is submitted to the government for further processing of tax payments.
Conclusion
Cash flow statement plays a key role in financial decision-making, tax payments, budgeting, and investment planning. It also leads to better planning and coordination, which lays the right foundation for your business. Having cash flow management software relieves the pressure on your accountants and management team.
If you have any queries about cash flow management software, feel free to connect with FinAccountants.