The development of a robust structure from complex processes is crucial to sustainable financial success in business. Owing to an in-depth understanding of your business model, compliance, access to detailed financial data, and tax demands, there is no better individual than the CFO to step into the strategic leadership role.
Effective financial controls and processes are heavily dependent on CFOs these days. In fact, it's more about comprehensive business performance, which pretty much explains why it is difficult to define the role of a CFO. The role of a CFO in a startup might vary to some degree, and this also brings us to the most commonly asked question- when is a CFO required?
So, since this post is more focused on when a CFO is required, we are going to skip defining what a CFO is.
Tasks Performed by a CFO
A CFO performs myriads of tasks and also serves the organization as a sounding board to the CEO. He or she ensures the timely collection of revenue to keep the enterprise sufficiently funded.
Contemporary businesses are more data-driven than ever, and CFOs leverage the immense power of data to render in-depth insights that could play a key role in forecasting and strategizing the company's moves. This also alleviates the CEO's burden to a big extent.
Fostering relationships with the sources of capital and managing relationships with key partners and investors are also part of the CFO's job.
Your Organization Needs a CFO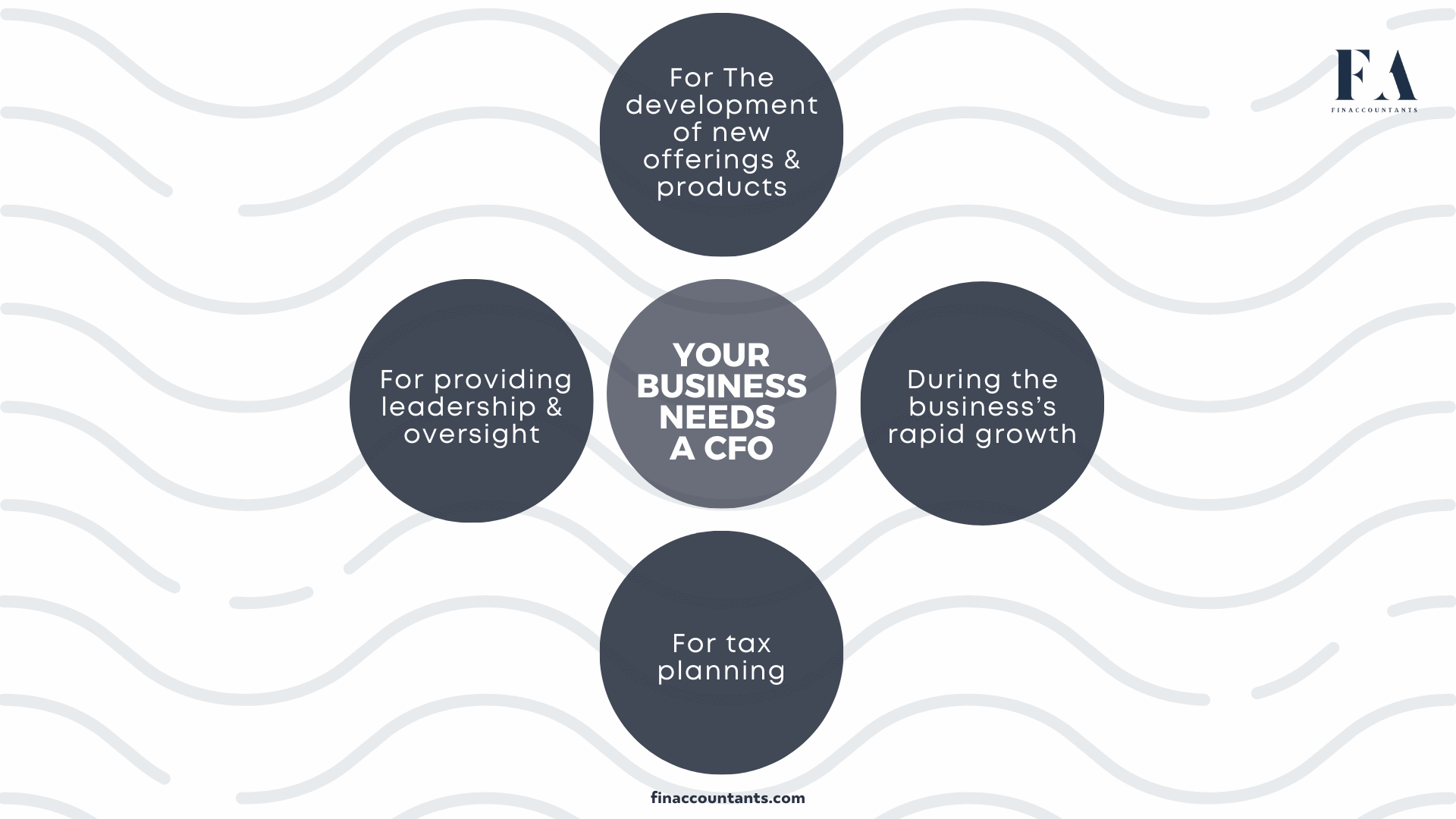 1. For The development of new offerings & products
Today's dynamic business landscape, especially when technology is the biggest disruptor, makes predicting the future more difficult than ever. Rapidly changing market dynamics require new business & leadership models.
A CFO helps transform the company's approach and methodology in more than one way. By driving innovation and inculcating adaptability, a CFO demonstrates next-level leadership. Besides, identifying new opportunities and transforming the company's products or services is another key role played by the CFO.
In a nutshell, a CFO is a change or transformation specialist who always keeps the organization sorted, focused, and on the success path.
2. During the business's rapid growth
Rapid business growth is a telltale sign that it's time for your business to hire a CFO. Growth calls for infrastructural expansion, which includes automation on various levels.
Such expansion requires capital and financing, and a CFO is best positioned to deal with the amount of complexity rapid revenue growth brings along. Comprehensive business performance is ensured when investment and technology are well-interpreted. The CFO not only analyzes the company's financial position but also the current & future market trends to devise strategies that improve cash flow & profits.
The majority of CFOs with hands-on growth experience have spent most of their time in consulting, investment banking, and the private equity sector, which speaks volumes about what they can bring to the table.
3. For tax planning
Effective financial controls and processes cannot be imagined without proper tax planning. When the existing resources of the organization cannot manage tax obligations in the way they should, it's time to hire a CFO.
A CFO will analyze the tax benefits of investments apart from interpreting any changes in the law. Besides, capitalization and spotting mergers & acquisitions also fall in the core areas of responsibilities of the CFO.
Hiring a CFO will help your organization build and protect its assets whilst improving tax positions which is half battle won.
4. For providing leadership & oversight
Achieving the strategic and growth vision of the CEO requires the formulation and perfect execution of strategies. A CFO has extensive knowledge of processes and finances, and this knowledge helps mitigate risks. This is done by outlining the details of a plan and analyzing its viability in the first place.
By taking over the strategic planning direction, the CFO will dig deep into the data for controlling costs and improving productivity. Also, identifying the bottlenecks and performance lags are other key responsibilities managed by the CFO.
The Bottom Line
Your organization needs a CFO for various reasons. A rapid growth period is one of those times when your organization needs the CFO. Tax planning and the need for newer business & leadership models are the other reasons that require the presence of a CFO. The role of a CFO in a startup becomes even more important for a wide array of other reasons apart from the ones mentioned above.