A CFO has to juggle multiple responsibilities to keep the organization competitive and in sound financial health at all times. If you have a finance background and often wonder what a CFO does, this blog is for you. More often than not, we end up oversimplifying the responsibilities shouldered by a CFO, and hence in this blog, we will try to cover all the major duties performed by a CFO and take a peak into his or her day.
So, without further ado, let's get the ball rolling.
What's a CFO?
The CFO or Chief Financial Officer is one of the C-suite of the company, which majorly oversees the firm's financial planning operations. With advanced degrees and certifications related to accounting, economics, and finance, CFOs have to do much more than just financial planning or number-crunching.
They play a pivotal role in the company's strategic decision-making, leadership, and accounting, even though they are not accountants. Simply put, a CFO's job is to direct the company's financial goals, predict the future for financial road mapping, and also supervise the company's cash management as well as the investment of funds held. This pretty much explains how multi-tasking a CFO has got to be.
A CFO working in a small company is responsible for performing various accounting tasks, whereas a CFO in a high-functioning company reviews reports and data from multiple divisions of the organization.
What does a CFO do on a daily basis?
So, as a CFO, what does your day look like?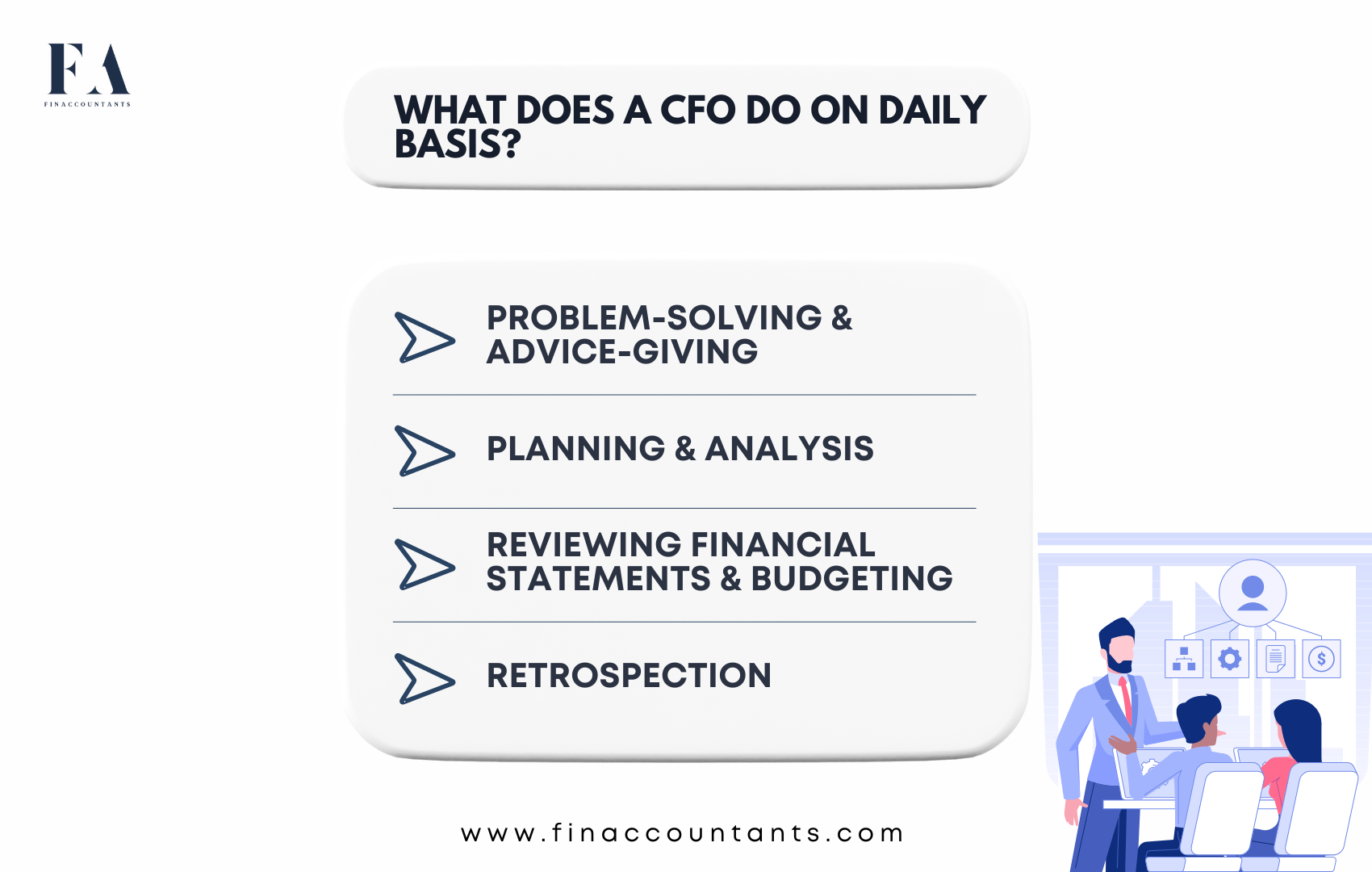 1. Problem-solving and advice-giving
Early morning alarms are common for many CFOs. They begin their day by checking emails and responding to them. Additionally, they sit with their accounting team to address their issues and provide guidance.
A CFO starts their day as a leader and has a diverse range of responsibilities, including identifying talent, assigning tasks to the appropriate personnel, and monitoring industry trends.
2. Planning and analysis
For those who ask what a CFO does on a daily basis, the impact a CFO has on the business is immense because he or she is the chief financial strategist of the company who is engaged in analyzing the current and future goals of the company and planning the cash flow management keeping in mind the company's strategy.
They also meet the CEO and COO of the company regularly for strategy sessions.
3. Reviewing financial statements and budgeting
Reviewing financial statements, drafting budgets, documenting procedural changes, and account analysis are some of the other tasks performed by a CFO daily.
4. Retrospection
A CFO's day often ends with a review of their team's progress towards their goals. They reflect on the day and acknowledge exceptional performance.
They may also follow up on emails and address accounting disputes and answer questions.
What's more?
The responsibilities mentioned above are not the only ones shouldered by a CFO as these are usually part of their typical daily routine, but for a CFO, no two days are alike. Here are some more responsibilities they undertake at some point or another during their day or week.
Defining and meeting the company's income target is certainly one of those key duties performed by the CFO.
Formulating strategies and taking financial decisions along with the CEO, apart from ensuring that auditors are happy with the financial paperwork, are some other non-daily responsibilities of the CFO. Not to forget the meetings with the key clients of the organization.
Conclusion
It can be easily concluded that a CFO's duties are virtually never over, and the day keeps him or her busy with some responsibility or the other. A CFO is truly an asset to any company, regardless of size. From financial planning to compliance, strategic planning, forecasting, and bookkeeping, the gamut of responsibilities undertaken by a CFO runs infinitely.
If you have any queries about FinAccountant's virtual CFO service, feel free to drop us a line.