Cloud accounting is the latest buzzword, and if you are still using desktop-based software for accounting, it is time for you to upgrade your technological infrastructure and switch to cloud-based accounting. There are numerous benefits of cloud accounting, and upgrading to cloud-based accounting software will help improve accuracy and compliance. Besides, the accounting will be far less time-consuming than on-premises accounting solutions.
Before we get down to the advantages and disadvantages of cloud accounting, let's first understand what it is.
What is Cloud Accounting?
Cloud accounting refers to performing accounting tasks such as managing books using cloud-based software. Often delivered in an as-a-service model, cloud accounting solutions allow you to remotely store your data. So, accountants can access the software to perform accounting anytime-anywhere.
Unlike on-premises solutions that would require businesses to store the data on their server, cloud-based accounting software is on the vendor's server, which is highly secure and well-managed.
There are both advantages and disadvantages to cloud accounting.
Pros of Cloud Accounting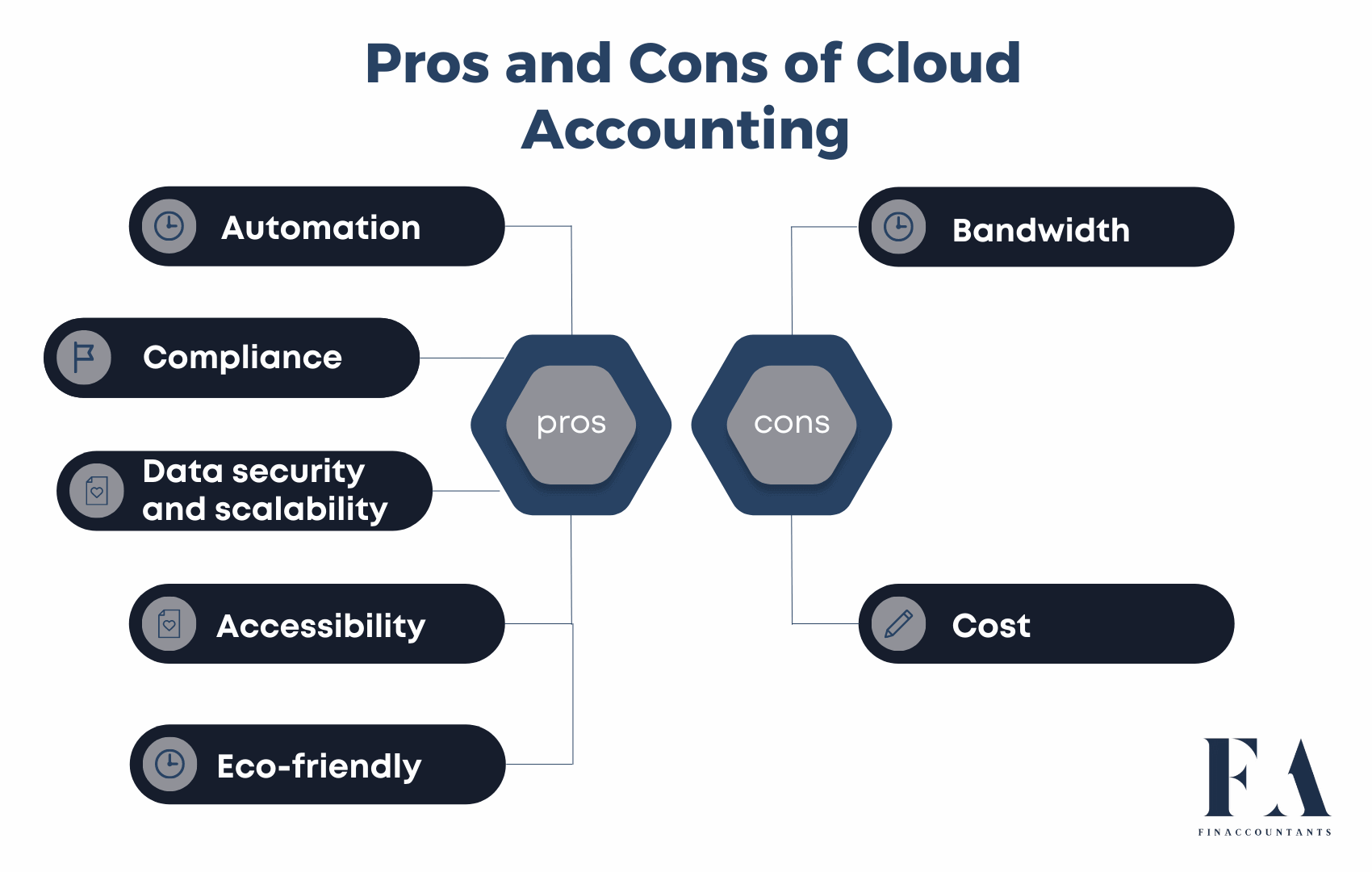 1. Automation
One of the major benefits of cloud accounting is automation. By using sophisticated cloud-based accounting software, you can eliminate a myriad of mundane and manual tasks. From scheduling reports to producing recurring invoices, importing transactions, and paying for subscriptions, you can automate tons of processes with sheer ease.
What's more? You can also use software programs that are useful for international sales. Using such programs will help make tax calculations automatically.
2. Compliance
Tax compliance cannot be taken for granted. A robust cloud-based accounting program can help you get rid of compliance-related woes. You can automate domestic as well as international tax calculations and ensure that all applicable tax regimes in place are adhered to.
3. Data security and scalability
Cloud accounting software is ultra-secure and hence storing sensitive information in the cloud isn't risky at all. Owing to advanced encryption, access control, and multiple security layers, you are in total control of the security of your vital data without having to worry about data breaches.
Data can be backed up automatically, which eliminates the risk of losing your valuable financial data.
Another major plus of cloud accounting solutions is scalability. Desktop-based accounting software cannot scale up as your business grows, which is not the case with a cloud-based accounting program. It can flex to match the growing needs of your enterprise.
4. Accessibility
Accessibility is one of the major advantages of cloud accounting software. Most of the data lives in the cloud, and that's why cloud accounting makes a great choice. Data sharing becomes easy as users can access it using their passwords, and the need for emailing huge files is eliminated.
Traditional accounting software needs the users to be on the company's network or log into a VPN for system accessibility which isn't the case with cloud accounting.
5. It is eco-friendly
Conventional accounting involves endless paperwork, and it has an environmental impact. Opting for cloud accounting solutions helps reduce your carbon footprint as you no longer have to store archived records in paper form. You not only achieve higher efficiency, agility, and precision in processes but also cut the clutter produced due to waste paper and printer cartridges.
Encourage your vendors to send electronic invoices that could be directly imported to the cloud accounting system for further processing sans any paperwork.
Cons of Cloud Accounting Solutions
1. Bandwidth
The cloud accounting software you choose may have bandwidth allowances or thresholds. Exceeding these limits may result in additional charges and/or slower speeds. Therefore, it is a good idea to discuss the bandwidth threshold with your cloud accounting software provider beforehand.
2. Cost
Cloud-based accounting software is costly; however, investing in one will be advantageous in the long run. The pricing depends on a variety of factors, such as data storage, functionality, and the number of users. Also, the cost of software increases as your company grows in the future.
The Bottom Line
Cloud-based accounting has not only evolved but also gained immense popularity over the years. It is highly scalable, secure, and efficient. Both small and big businesses can benefit from cloud-based accounting. As a business, you got to keep pace with the competition whilst keeping your invaluable data protected from potential threats. Having sophisticated cloud accounting software helps enhance efficiency, productivity, and accuracy.
If you need any information about custom cloud accounting software, feel free to connect with FinAccountants.