Overview
As we are at the end of 2022, it's essential for businesses and accounting professionals to stay updated on the latest accounting trends and developments in the industry.
The top accounting and bookkeeping trends for 2023 include the use of artificial intelligence and machine learning, the adoption of cloud-based software, the increased use of mobile apps, the adoption of blockchain technology, and the need for increased regulatory compliance.
In this article, we'll provide an overview of some of the most significant accounting & bookkeeping trends to watch out for in 2023.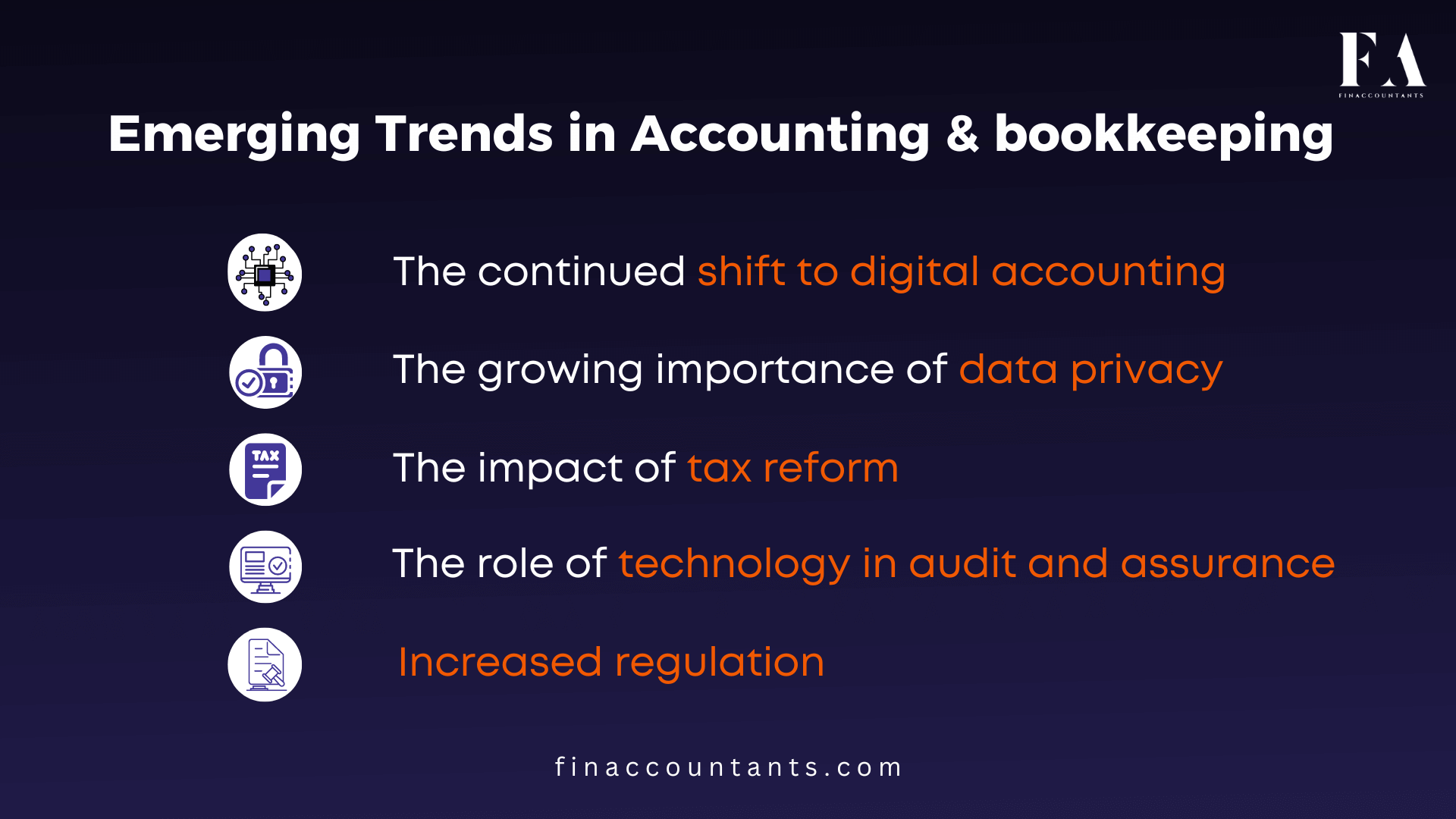 1. The continued shift to digital accounting
With the pandemic driving a shift to remote work and digital tools, we can expect to see a continued focus on digital accounting in 2023. This includes the use of cloud-based accounting software and tools, such as QuickBooks Online, Tally Prime, Xero, and Zoho Books, as well as the increasing adoption of artificial intelligence and machine learning in accounting processes.
Artificial intelligence and machine learning:
Technologies are being used to automate various accounting and bookkeeping tasks, such as data entry and financial analysis.
Cloud-based software:
Many businesses are moving to cloud-based accounting and bookkeeping software to improve data security and accessibility.
Mobile apps:
Mobile apps are becoming more popular for tracking expenses, invoicing, and other accounting tasks on the go.
2. The growing importance of data privacy
As the amount of data being collected and processed by businesses continues to grow, so does the need for robust data privacy measures. In 2023, we can expect to see an increased emphasis on data privacy in the accounting industry, including the implementation of new regulations and best practices to protect sensitive financial and personal information.
3. The impact of tax reform
India has undergone significant tax reform in recent years, including the introduction of the Goods and Services Tax (GST) in 2017. The GST is a value-added tax that replaces a number of indirect taxes, including the central excise duty, service tax, and state value-added tax. It is targeted at simplifying the tax system and promoting economic growth by eliminating tax barriers between states and creating a single, unified market.
4. The role of technology in audit and assurance
Blockchain technology has developed to revolutionize the audit and assurance industry by providing a secure and transparent record-keeping system. In a traditional audit, the auditor must rely on the accuracy and completeness of the financial records provided by the company. However, with blockchain technology, all transactions are recorded in a decentralized and immutable ledger, making it easier for auditors to verify the precision of the financial records.
5. Increased regulation
There are likely to be continued efforts to increase regulation and oversight in the accounting industry in India, particularly in light of concerns about financial fraud. This could include the implementation of new laws or the strengthening of existing regulations.
Conclusion
Overall, these are just a few of the key trends to monitor in the accounting industry in 2023. As always, it's important for businesses and professionals to stay up to date on these developments in order to remain competitive and compliant in an ever-changing landscape.
These trends are expected to greatly enhance efficiency and accuracy in financial operations, making it easier for businesses to manage their finances and stay competitive in the marketplace. With the help of experts in FinAccountants, You can easily keep up with the trend and grow your business.