Did you know nearly 1 in every five small businesses fails in its first year and Why? Many factors, but the major one is the lack of financial assessment, tools, and services. Thus, poor financial management!!
Financial services can be broadly classified into banking, investment, insurance, or advising services – it also plays a crucial role in economic crisis handling – that's why it's always gaining heat, especially when the global recession is around the corner, according to experts.
RBI and central authority occasionally implement reforms to liberalize, regulate and enhance the financial services industry – including the creation of Non-Bank Financial Companies (NBFC), Microfinance Institutions (MFIs), and Asset Recovery Companies (ARC).
Along with ensuring financial stability and success – one of the major factors these financial entities work towards is evaluating, analyzing and mitigating financial risk.
Once you are on good terms with your finances, it further helps to build stable and mutual public trust and relations. Thus, moreover, it assists in complying with the latest industrial framework and recent developments.
So without further ado. Let's dig into the blog to learn about various financial services, like bookkeeping and accounting, payroll processing, and VCFO, in-depth.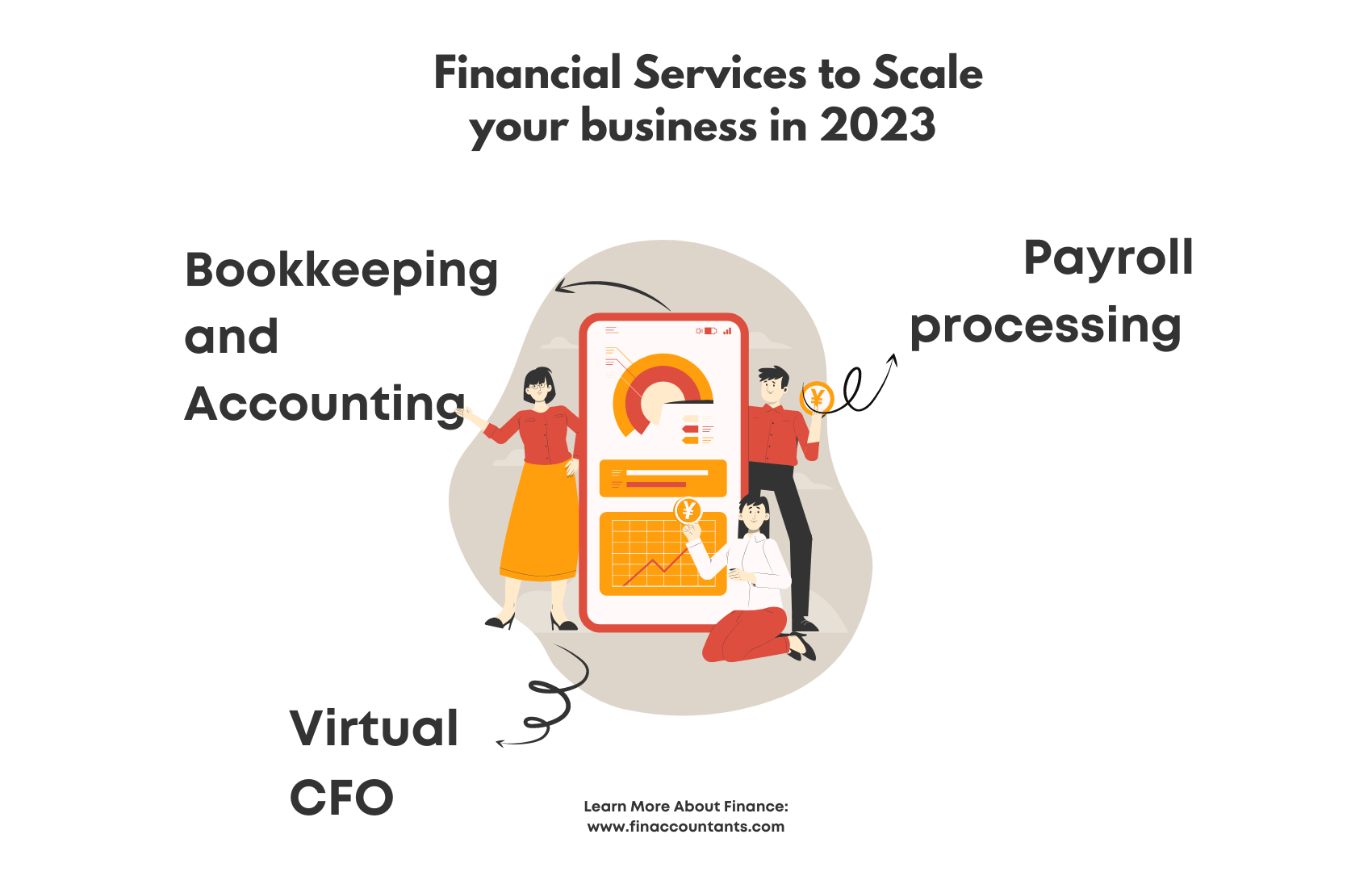 1. Bookkeeping and Accounting
As you are expanding your business, the things that will grow alongside would be your accounting and bookkeeping work. If you are a founder or CEO of a small business, handling it manually can be a task, and finding an experienced accountant that would not shake your budget is tough.
Things an in-house accountant needs to take care of:
Balancing sheets
Payroll services
Prepare bank reconciliations and their analysis
Taking care of your accounts, payables, and receivables
Data interpretation and presentation to business owners and investor
And many more.
Seeing the vast variety of skills needed, the workload can be overwhelming. And finding one with ample and reliable experience in handling the finances of a growing company with a budget-shooting deal is difficult. Right?
Then what's the solution?
Automation or Outsourcing to professional cloud-based accounting firms.
What things to look out for outsourcing?
First thing first, business compatibility and niche and field expertise.
Prompt reactions to government alterations to taxes and payroll laws are equivalent to the smooth running of the business without the hassle of fines or missing important deadlines. And with that, your business can stay immune to rapid changes in the market.
Furthermore, some service providers work with different business models, such as charging hourly or project basis. Make sure you choose the most suitable yet affordable one.
Benefits of outsourcing your bookkeeping and accounting tasks:
Fully automated and user-friendly services with the latest technologies
Constant updating of apps, cloud-based software, and personalized packages
Budget-friendly and time-saving compared to hiring in-house professional
Better data security – steady business processes and operations
Robust delegation
Avoids work duplication
Expert advising and tax planning at an affordable cost
If you want all of the above services at your fingertips, click here.
2. Payroll Processing
Growing business means growing staff, and we must ensure they are getting paid correctly. That may sound easy, but payroll processing is not a cakewalk and is one of the most challenging jobs in any business. Its complaint requires various legal frameworks against protecting employees' and employers' duties.
However, it's hefty for most companies to develop payroll-proof strategies — Considering the varying state-level rules, it's time-consuming, and most of the company's money goes into it while safeguarding and tackling several statutory.
What is Payroll Processing?
An employee's salary may be X, but that won't be the final amount that goes into their salary accounts. In addition, many taxes and deductions need to be followed as they are not optional but required.
Accounting is already challenging; deducting charges and tax planning and then portraying the even ground rules for deduction seems even more complex.
Payroll Processing is the actual arrival of net salary after calculating the taxes and deductions to the employee's account.
What does Payroll Processing include?
First, we must develop the company's payment policies, leave encashment policies, etc.
Define Payslip – components of basic salary, dearness allowance (DA), house rent allowance (HRA), conveyance allowance (CA), and many more
Collect other payment data from transport and food departments
Calculate the net pay after deducting all the essentials
Releasing the employee's salary
File returns such as TDS and PF with the regulated authorities.
So, click here, and we will help you take on administrative and tax planning challenges.
3. Virtual CFO
While taking care of the company's books and employee payrolls, there is a ton of other financial work you need to look at.
With that, a company needs a CFO (Chief Financial Officer) to take on a financial position that the founders or CEOs lack, such as following the market trends, obtaining money, creating a budget for the company, and many more.
Then what's the catch?
Hiring a CFO can shake up the financial health of an organisation as it is one of the executive positions which needs experience and skills. That means higher pay, especially for small businesses.
What's the answer?
A virtual CFO, also known as VCFO, can help the company forecast financial needs and goals and do fundamental financial chores such as reconciliations. They also help create reporting for cash flow and its performance and condition throughout the quarter or year.
What are the things to look for while hiring a VCFO?
Qualifications
The work VCFO does can be gruesome so the person would need a great set of qualifications and experience in the related field
Effective and transparent communication
The job needs proper communication as the company's financial success depends on the VCFO's regulations.
Expertise in your niche
There are dozens of VCFOs in the market, but you need an executive with prior experience in the same niche as a finance-related company.
Where can you find such capable VCFOs? Click here, and you will not regret it!
FAQ's
1. What is the importance of financial tools for any business?
Financial tools and services help businesses with automation, data security, and better and personalised performance. (Cost-effective and user-friendly)
2. How many types of financial services are there?
There are many financial tools and services, but the most used are accounting and bookkeeping, payroll processing, and VCFO services.
3. What is needed to scale a fintech or any business?
To scale up fintech or any business, we need the latest and best-in-class technology in a budget-friendly manner. It will help the company to gain maximum potential with little investment.
How can we help!
After reading this blog, you must have understood the importance of financial tools and services, something that business owners cannot neglect.
In today's day and age, where technology has taken the front seat, we need to automate most of our business. That way, you can scale up your company more than other traditional methods.
However, the main question is, who can do it for your company?
FinAccountants and its team help businesses thrive with their cloud computing services. The professionals in our team provide you with accurate data to prevent any mistakes. Also, the data security that FinAccountants provides is one of the best in the world and market. We have been helping financial companies grow for the last decade and a half (15 years!).
If you want to be amongst the next big financial businesses.