In recent years, India has developed a vibrant startup environment, supporting innovation and promoting business ventures. The Indian government has launched various legislative efforts to establish and assist these emerging businesses because it recognizes the enormous potential of startups to promote economic growth. The government supports startups by fostering a climate that allows them to thrive, generate employment opportunities, and advance the country. We shall explore the regulatory advantages the Indian government provides to companies in this blog.
Advantages of Launching a Startup in India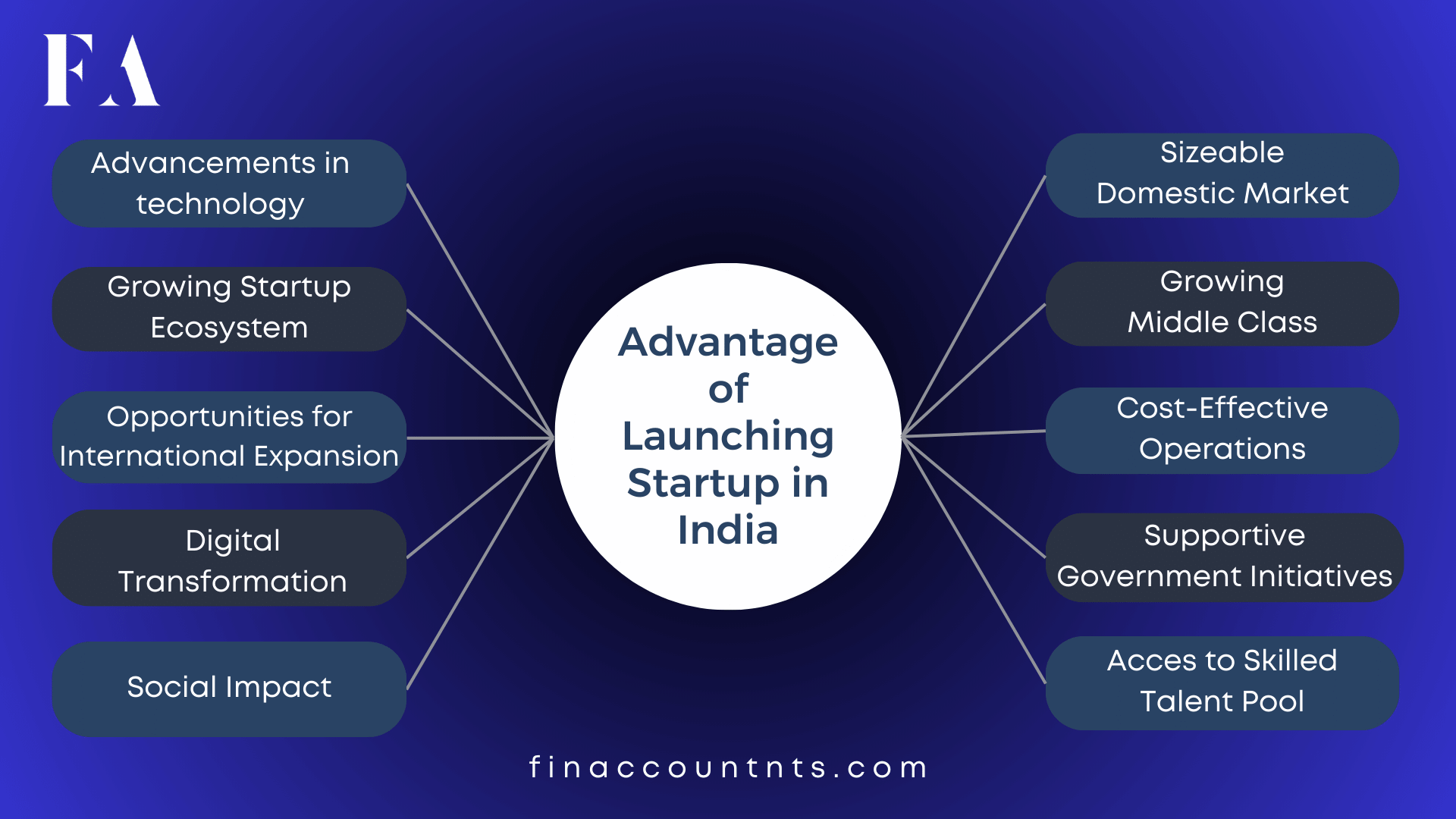 In India, launching a company has several advantages. Here are a few significant benefits:
Sizeable Domestic Market: With more than 1.3 billion population, India has a sizable customer base. This offers a sizable market for businesses to enter and has tremendous development potential.
Growing Middle Class: India's middle class is increasing quickly, which has raised the demand and purchasing power for a wide range of goods and services. Startups can target specific markets and serve this growing middle class with cutting-edge products.
Cost-Effective Operations: India provides lower operational costs than many wealthy nations, including reasonably priced labor, office space, and manufacturing facilities. This can aid startups in greater cost-efficiency and expense optimization.
Supportive Government Initiatives: To encourage entrepreneurship and startups, the Indian government has introduced several initiatives and programs. Included is the "Startup India" initiative, which offers many advantages such as tax breaks, financial help, and more straightforward regulatory compliance.
Access to Skilled Talent Pool: A significant pool of highly qualified individuals, including engineers, programmers, and business grads, is noted for being present in India. Startups can use this talent pool to create their teams and foster innovation.
Advancements in technology: India has made considerable strides in recent years, particularly in information technology, e-commerce, and digital payments. Startups can use these developments and cutting-edge technology like blockchain, artificial intelligence, and the Internet of Things (IoT) to create ground-breaking goods and services.
Growing Startup Ecosystem: With the emergence of startup incubators, accelerators, and co-working spaces throughout India, the startup ecosystem has been fast evolving. This ecosystem gives companies access to capital, mentorship, and networking possibilities.
Opportunities for International Expansion: India's strategic position and rising global impact make it a magnetic base for entrepreneurs aiming to go global. Startups can explore international markets and establish collaborations thanks to their diverse cultural backgrounds and favorable economic links with numerous nations.
Digital Transformation: India is going through a digital revolution fueled by rising internet usage and smartphone adoption. As a result, there is a substantial market for digital goods, services, and solutions for startups.
Social Impact: Social and environmental issues are a significant focus of many Indian companies. Startups can have a beneficial impact on society and support sustainable development by utilizing technology and creativity.
Government-sponsored advantages:
Ease of Doing Business: The Indian government has made significant steps to cut red tape and streamline bureaucratic processes, making it more straightforward for startups to launch and run their firms. The startup registration process has been dramatically expedited by initiatives including establishing the online registration process, single-window clearance, and a consolidated website for regulatory compliance. This frictionless experience enables business owners to concentrate their efforts on innovation and expansion rather than becoming bogged down in red tape.
Startup India Initiative: Launched in 2016, the Startup India program aims to promote an entrepreneurial and innovative culture nationwide. In addition to tax deductions, self-certification compliance with labor and environmental legislation, and a designated reserve of money, this flagship program offers entrepreneurs many advantages. Startups can benefit from this initiative's intellectual property rights protection, expedited patent review, and network of incubators and accelerators for mentoring and support. Such all-encompassing support helps companies to flourish and take chances in their quest for success.
Tax perks and Incentives: The Indian government has created several tax perks and incentives to lessen the burden and draw investment after realizing the financial difficulties encountered by startups. Startups are eligible for a tax vacation for three of the first ten years of their business as long as the Inter-Ministerial Board approves them. This exemption enables startups to focus their budgets on personnel acquisition, market expansion, and product development, which accelerates their growth rate.
Funding and finance Access: For businesses to grow and turn their ideas into reality, they need access to finance. The Indian government has launched several steps to make it easier to support businesses. With a corpus of INR 10,000 crore, the SIDBI (Small Industries Development Bank of India) Fund of Funds scheme aids venture capital firms that finance startups. Additionally, the government has introduced the National Initiative for Developing and Harnessing Innovations (NIDHI) program and the Atal Innovation Mission, both of which offer companies grants, loans, and other forms of financial assistance. These programs increase investor trust and promote domestic and international funding for Indian businesses.
Protection of Intellectual Property Rights (IPR): To safeguard their ideas and compete in the global market, entrepreneurs must protect their intellectual property. The time it takes to approve a patent has been cut from years to just a few months thanks to measures the Indian government has put in place to speed up patent assessment for startups. Thanks to this quicker process, startups may protect their ideas and inventions, which inspires trust in investors and opens up prospects for licensing and commercialization.
MSME Development: The Indian economy heavily depends on the Micro, Small, and Medium Enterprises (MSME) sector. The government has a number of programmes and incentives to help MSMEs, including access to business development services, interest rate breaks, credit guarantees, and loans without collateral.
Incentives for research and development (R&D): The government offers financial aid and tax breaks to support R&D efforts by Indian businesses. These consist of tax exemptions for revenue derived from patented innovations, subsidies for technology acquisition and commercialisation, and tax deductions for internal R&D expenses.
Conclusion:
The Indian government's proactive approach to encouraging startups through regulatory incentives has cultivated a favorable environment for the development of the entrepreneurial sector in the nation. The government has aided entrepreneurs in innovating, producing jobs, and boosting the economy by streamlining procedures, offering tax advantages, expanding access to capital, and protecting intellectual property. These regulatory actions have fostered a thriving startup culture in India and brought domestic and international wealth. India's status as a hotspot for innovation and entrepreneurship is strengthened by the rise of disruptive businesses making substantial progress in various industries.