AP (Accounts payable) and AR (Accounts receivable) are interrelated. That's why understanding the AR AP cycle and it is important to understand what they are.
Accounts receivable refers to the sum of money a company is entitled to receive from its clients or customers against the services or products sold on credit. Accounts receivables are also commonly referred to as debtors. They are also called trade debtors, trade receivables, or bills receivables.
On the other hand, accounts payable is the money a business owes to its suppliers, which understandably shows as a liability on the balance sheet. Also called bills payable, it shows as a liability under 'sundry creditor' in the balance sheet.
Why maintaining AR-AP Cycle is Important?
As a business, proper management of accounts receivables and accounts payables is important to evaluate the company's financial health. Accounts receivables are recorded as assets in the journal entry, while accounts payables are recorded as liabilities. Maintaining AR and AP journal entries helps you understand how much money your customers owe to you and you owe to your suppliers.
In the accounting world, AR is considered an asset because it will convert into cash at some point. ARs in your journal entry show how much money you have at your disposal at the moment and the cash inflow you will have in the future. They are also important in case you have investors to deal with, or you are planning to borrow money.
Speaking of being considered assets, ARs are also a measure of an enterprise's liquidity. Liquidity refers to your company's ability to convert assets into cash. This gives your company enough flexibility to make amendments in purchases or sales as required.
Sound AP management is as important as AR management to ensure your business doesn't have to deal with issues caused due to overdue bills, misses payments, and late payment penalties to name a few. On one hand, overdue bills, and missed or late payments are an indicator of insufficient cash flow; and on the other they make your suppliers or vendors lose trust in your business.
While accounts receivables and accounts payables are both important, managing ARs require more effort. From the moment you send an invoice to your client to the moment you update your journal entries, accounts receivable management involves plenty of steps. These steps are:
Keeping track of your bill
Setting payment reminders
Receiving payments
Updating accounts
How does AR AP Automation Process help?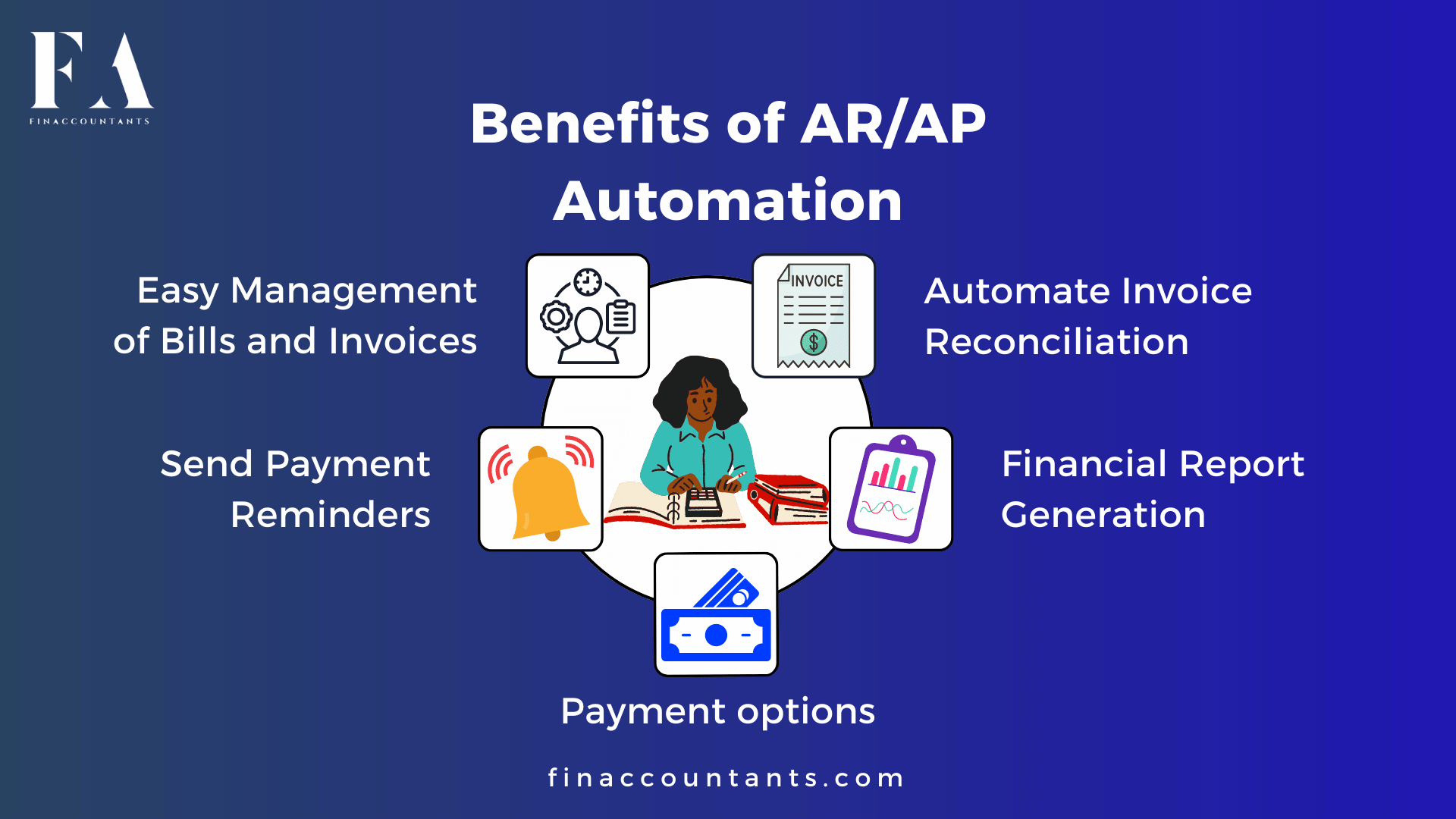 Both debtors and creditors are important and intrinsic parts of your business, and investing in sophisticated software will streamline the AR-AP cycle for you. AR-AP automation process helps you in multiple ways.
1. Easy management of bills and invoices
Managing invoices is easier said than done. Using modern software makes it easy to store and access all your bills in a convenient location. Recording bills for every transaction made and scheduling them to be sent at a later date becomes a breeze.
2. Send payment reminders
With good accounting software, you can send payment reminders to your clients for the payments they owe you. That's not all! You can also set reminders about the payments you need to make to your vendors. AR and AP automation will help you ensure a smooth AR-AP cycle.
3. Payment options
Providing multiple payment options to your customers can prevent delayed payments. Sophisticated accounting systems can be integrated with various payment service providers, which allows your customers to choose the payment method they prefer for payment processing.
4. Financial report generation
A streamlined AR AP automation process will generate financial reports automatically. These reports will give you insights into transactions depicting money going in and out of your business. Needless to say, it enhances your decision-making and helps you stay on top of your finances.
5. Automate invoice reconciliation
For AR accounts, automated invoice reconciliation is important because it helps you find out whether the sum of money the debtor owes to you matches your journal entry/bank statement or not. Accounting software will automate the invoice reconciliation process for you in a jiffy.
The Bottom Line
Accounts receivables and accounts payables are important pillars of your accounting books, and your business cannot afford to go wrong with them. AR AP automation process can save your business from the hassle of managing it manually. Investing in AR and AP automation software will help your business a huge deal as far as the AR-AP cycle is concerned.