Many startups believe they only require a chief financial officer once they reach a particular size, and some assume that CFOs are exclusively found in large organizations.
However, startups often expand considerably quicker if they have someone on board who knows their financial goals and can create appropriate methods. By hiring an experienced CFO, startups get access to an expert who can guide strategic decision-making, aid with planning, and enhance overall operations.
A CFO may help a startup develop in more ways than just making finances more manageable. They provide strategic financial advice and experience, assist with planning, and guarantee that finances are optimized for a startup.
How CFOs help startups grow
A Chief Financial Officer (CFO) might be critical to your success. A CFO is a person in charge of a company's financial operations. And a CFO plays various roles and responsibilities in a startup to achieve its potential growth. Some of these include:-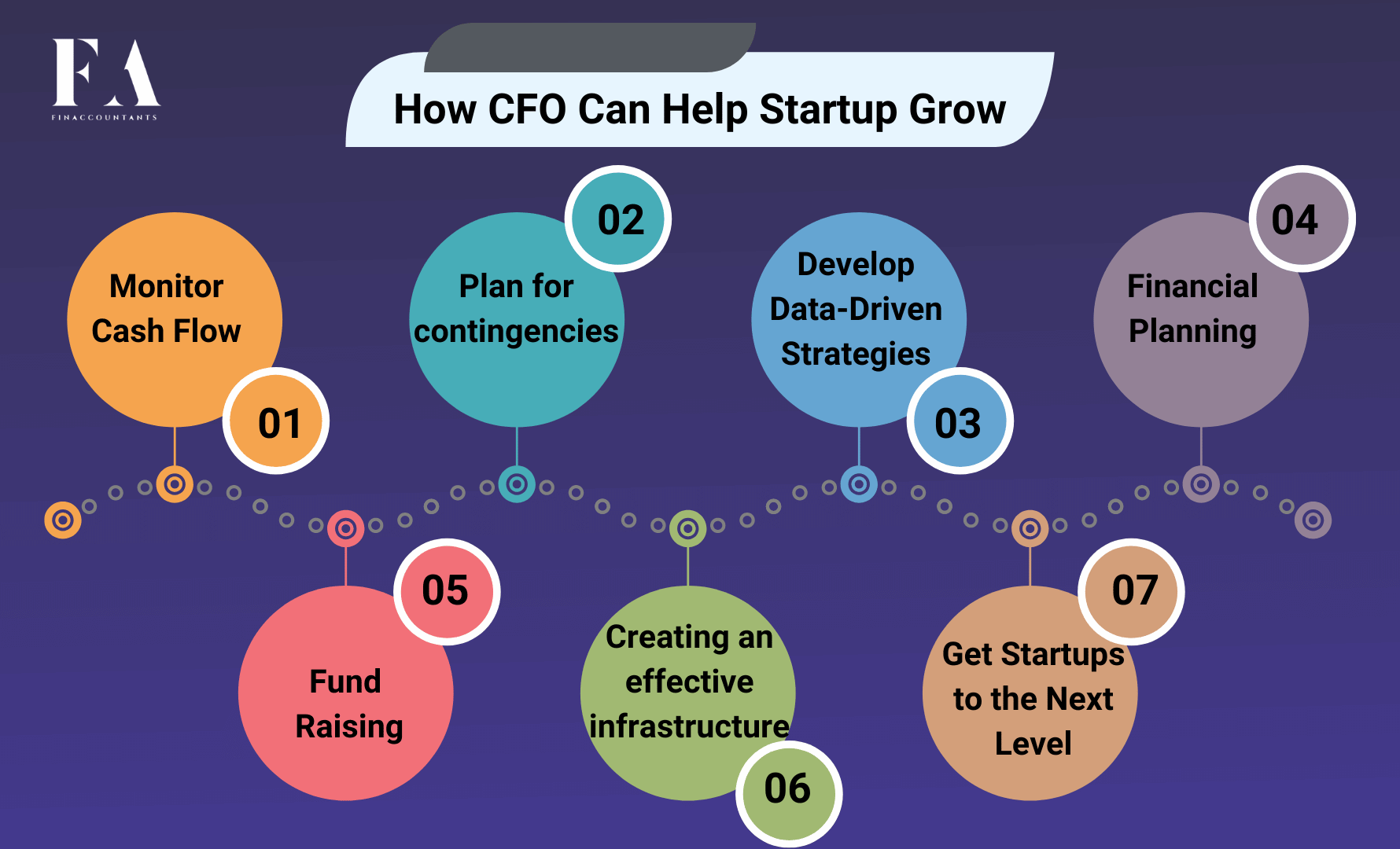 1. Monitor Cash Flow
One of the most significant hurdles for businesses is obtaining the necessary capital. Many startups, and even established firms, can rapidly blow through their venture funding before they have even created a name for themselves. Balancing high operating expenditures and low income is akin to walking a tightrope, especially in the first two years.
To reduce wasteful expenditure, CFOs should be proficient at controlling payables and costs. They can also help to ensure that a firm remains steady despite the difficulties of the early stages of operations.
2. Create a plan for contingencies
Startup entrepreneurs are frequently unconcerned with long-term challenges such as revenue investment and debt management. They are so focused on surviving the initial years that they become short-sighted.
It can be avoided with the help of a CFO. They frequently establish and implement financial plans since they are proficient at predicting and foresight. The same is true for dealing with abrupt or unsteady growth.
A CFO at a startup can give essential insight and advice to help them from the verge of failure and create and implement methods that result in business recovery.
3. Develop Data-Driven Strategies
Financial data and expenditure analytics tools and technology are increasingly enabling CFOs to take on new responsibilities. They are now taking on tasks such as offering corporate strategy guidance. It also helps startups to study client behavior, allowing them to adapt to shifting market priorities.
A startup CFO oversees data collection and analysis, and based on this data; they will produce insights that can assist startups in competing with other businesses in your niche. These technologies also analyze the information acquired, giving you a more direct path.
4. Financial Planning
The more data-driven a startup is, the more likely it is to spot opportunities and eliminate mistakes in advance.
When a startup chooses to go public or merge with another corporation, the CFO can design strategies to deal with complex financial conditions and rapid growth to ensure a smooth transition.
5. Fund Raising
Unless you have personal funds, you will require the assistance of others to carry your startup to the next level.
A CFO can assist startups in raising funds, and their due diligence management and financial planning abilities can assist startups in attracting investors and help them spend money wisely.
With a CFOs help, a startup's first cash will significantly influence its launch and growth.
6. Creating an effective infrastructure
Another area where the CFO can assist a startup company is by laying a solid foundation to support the business as it grows. And growth can come quickly at times.
If your startup suddenly takes off and acquires a vast client base, does it have the financial mechanisms to meet the extra demand?
An experienced CFO may create an adequate infrastructure to assist various areas, including payment processing and payroll, as well as human resources and accounting and bookkeeping.
7. Get Startups to the Next Level
Your startup will only be considered a startup for a year or two. If your business survives the first few vital years of existence, it has the potential to grow into a profitable enterprise. It could be bought out and taken over by another company. Whatever the situation, a CFO can assist you in preparing for these changes and ensuring a smooth transition.
Hiring a professional and experienced CFO can result in your startup providing value, and their thoughts and knowledge will ensure your startup's existence and longevity.
Conclusion
Whether you choose to go for a full-time or a part-time CFO, you can be assured that they will help your company expand successfully and meet the changing demands of your industry.
If a startup cannot engage full-time CFOs, hiring a Virtual CFO or Outsourced CFO is the best solution which can undoubtedly assist in resolving financial issues and keeping the books of a startup in order.
With a Virtual CFO service, you'll get all the benefits of an experienced CFO specializing in startups without the significant costs involved in filling this position in your company.