Robust financial management is the backbone of any business and it becomes even more important during a crisis. Hiring an experienced CFO helps you stay on top of your finances. So, if you wonder why a company needs a CFO, there isn't just one answer to it. There are a plethora of reasons why businesses need a CFO and we have compiled a list of a few of them for you.
Let's dive right in!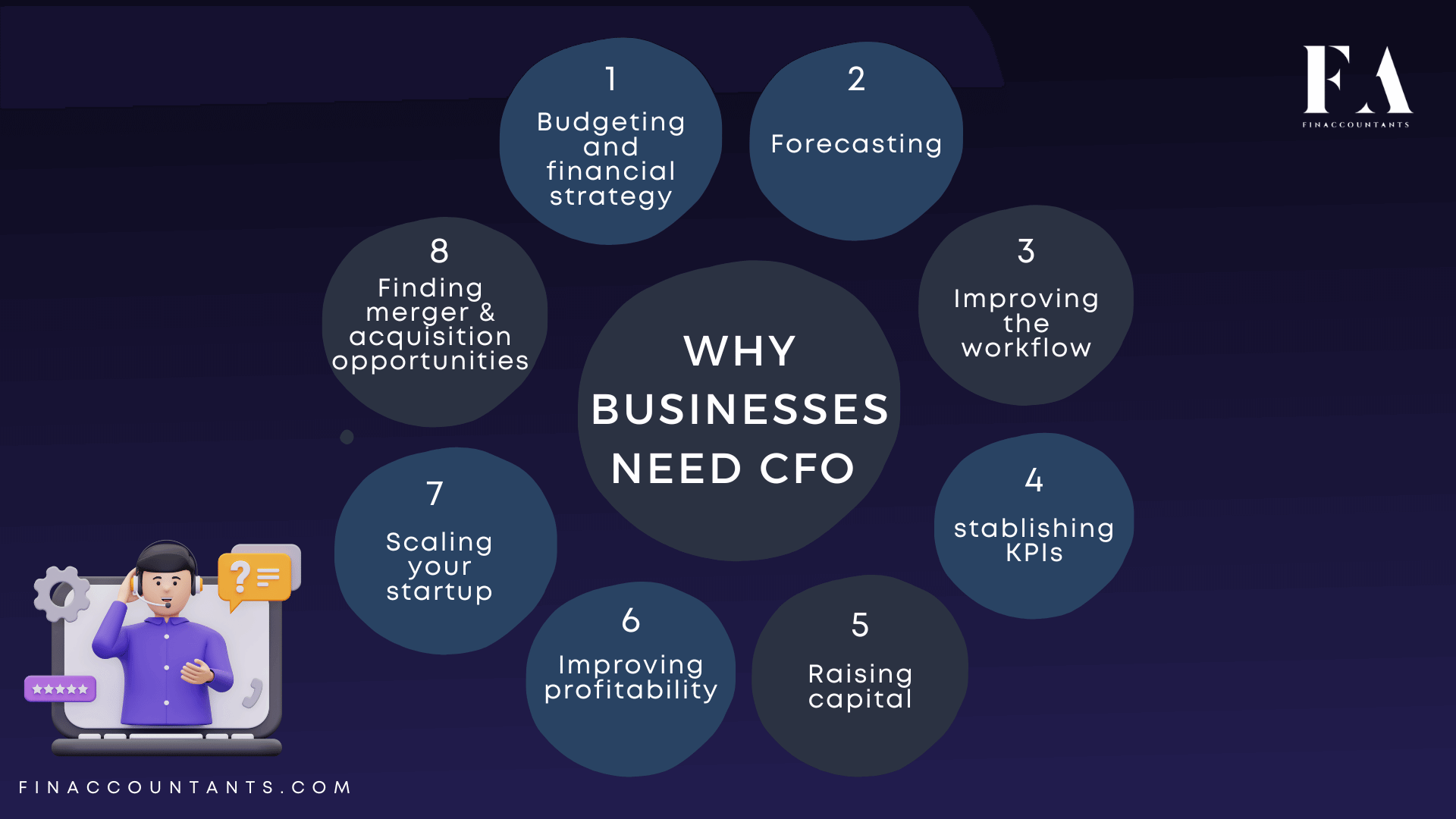 Reason # 1– Budgeting and financial strategy
Your business cannot survive without a budget and streamlined financial strategy. A CFO will make sure that your enterprise has a budget. Just having a budget isn't enough and a CFO will make sure that every level of your budget is utilized properly.
The quality of your finance management increases quite drastically once an experienced professional such as a CFO is there to oversee it. Analyzing finances empowers your enterprise with a strategic edge so that it is future-ready to take any challenges head-on.
Reason # 2- Forecasting
Accurate future prediction is of utmost importance in the financial world. For this reason, you not only need reliable data, but a dedicated financial expert who can make the most of the data through financial and strategic analysis to find out what the future holds for you.
Reason # 3- Improving the workflow
Improving the workflow of your organization paves the way to success and that's another key reason why businesses need a CFO.
A CFO makes sure that the financial side of your business runs properly and is in optimal health. Besides, he or she also ensures that the organization has a workflow to follow. How a CFO improves the organizational workflow?
A CFO renders data and evidence-backed insights to determine which direction you are heading in as an organization.
Besides, building and fostering valuable relationships with financial partners is also a key aspect of any business that's managed by a CFO. Communicating with investors and the other key players is also managed by your CFO.
Reason # 4– Establishing KPIs
In the absence of well-documented KPIs, your organization will run around like a headless chicken. Whether you are a startup or an established business with a massive workforce, KPIs help measure the progress of your organization against its goals. Proper reports generated by your CFO will help manage the business and it KPIs.
Reason # 5- Raising capital
We have discussed budgeting in the first point of this post. Raising the capital for your organization can be quite complex and you need a financial wizard to handle it for you. The CFO of your company will raise capital from banks, angel investors, and venture capitalists. The credibility of your business is quite important while raising capital and that's another reason why businesses need a CFO.
Reason # 6- Improving profitability
Strategic insights and analysis help identify inefficient processes and where you are overspending. Besides, creating successful initiatives by identifying the company's key cash-flow drivers, working capital, and revenue for instance becomes important to drive profitability.
Reason # 7– Scaling your startup
Change is inevitable and that applies to every organization including startups. As a company, you gotta have a robust plan at hand to scale your startup. As it grows and more revenue flows in, certain things need to change. Having a CFO in place helps your organization grow cost-effectively whilst pruning out unnecessary plans or approaches for methodical growth.
Reason # 8- Finding merger & acquisition opportunities
Having a CFO makes the otherwise complex merger & acquisition process way easier. Many companies that do not have an in-house CFO have no choice except for hiring an external financial expert/advisor for this purpose. The CFO of your organization will work on the different layers of the documentation to scrutinize, interpret, and customize it according to the organizational goals to make sure that mergers & acquisitions go the way you wanted them to.
Conclusion:
A CFO closely works not only with the financial team within the company but also with the CEO and COO to strategize and drive key initiatives that lay a rock-solid foundation for your business. From driving innovation to fostering relationships, and compliance, there are plenty of reasons why businesses need a CFO.
FinAccountants' skilled CFO team will assist you with your business operations and the complexity of dealing with finances in your organization. We assist you in fine-tuning your financial strategy in order to accelerate growth and meet growth and profit targets.
Our Virtual CFO services are ideal for companies that require financial management assistance but do not have a full-time CFO budget. Please contact us if you want to learn more about our VCFO services.