Keeping a close eye on your company's finances is important, and as an entrepreneur, you know the importance of having a CFO. Hiring a full-time CFO is quite expensive, and that's where you can go for a fractional CFO. If you are wondering what's a fractional CFO and the benefits of hiring one, this post is for you.
What's a fractional CFO and their role?
A fractional CFO, part-time or outsourced CFO, is an expert offering fractional CFO services. This expert is responsible for the financial management of a firm. There are a plethora of benefits to hiring a part-time CFO for fractional accounting services. Before we take a look at those advantages, let's understand the role of an outsourced CFO and why businesses need to hire one.
Role of a Fractional CFO and why businesses need them
The role of a fractional CFO extends way beyond a bookkeeper or controller. They are responsible for a wide array of crucial tasks such as making financial forecasts, cash flow management, stakeholder reporting, preparing board presentations, sales projections, formulating strategies, and KPI reporting.
Companies often need a part-time CFO for fractional CFO services or Virtual CFO services because hiring a full-time CFO is quite expensive. Besides, financial management involves plenty of intricacies that, if managed by a professional without the right skills, can be disastrous.
Advantages of Fractional CFO Services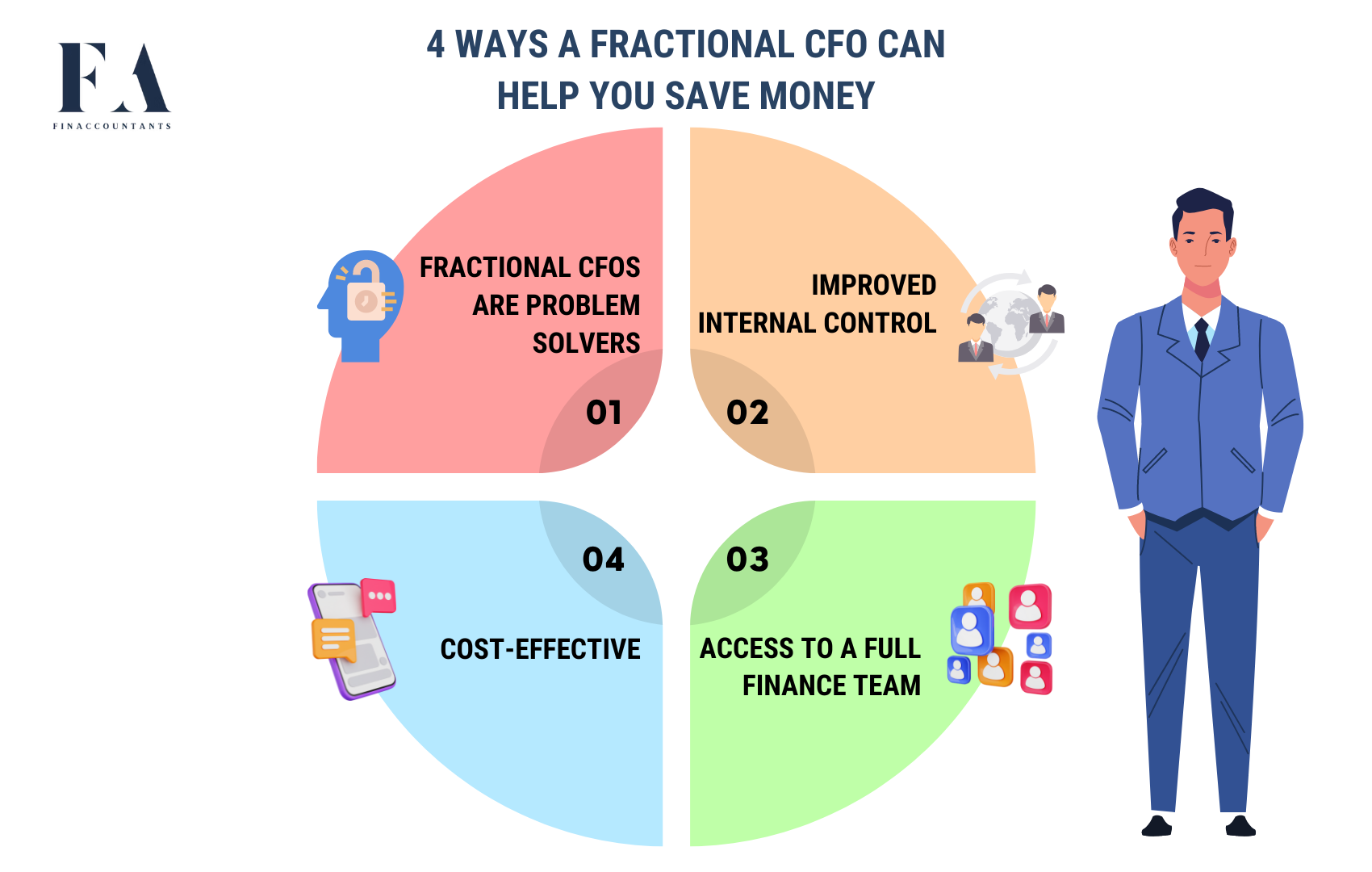 1. Fractional CFOs are problem solvers.
Financial management can be quite tricky at times, and it can have a lot of unpleasant surprises in store for you. Sometimes, cash flow is the problem, and sometimes bookkeeping is the issue. A fractional CFO will help figure out where the problem exactly lies so that it can be fixed. Objective analysis is another reason why you should opt for fractional accounting services.
During tough times when the economy takes a slump, you will be required to make a few difficult decision-making that may or may not be easy for a manager who may be reluctant to layoffs, seek new capital, and reduce compensation, to name a few.
2. Improved internal control
The importance of fractional CFO for startups and established businesses is more or less the same. Yes, you have a team of in-house financial experts; however, you would need an expert to oversee and monitor the activities and find out discrepancies as and when needed.
A part-time CFO offering fractional CFO services will not only keep a close eye on these activities but also implement internal control procedures. This will help minimize errors and enhance the efficiency of your operations.
3. Access to a full finance team
Enterprises have different growth stages, and hiring just one CFO is not always a better choice. That's because you will need different finance experts to manage different growth stages of your company according to the situation. Hiring a CFO and an outsourced finance team with a deep bench of resources is what you need for consistent growth, compliance, and problem-solving.
4. Fractional CFOs are cost-effective
Hiring a fractional CFO doesn't cost you a bomb, and you will not have to burn your bank to have one in place. You can easily scale up or down as the situation demands by hiring fractional CFOs on an as-needed basis. Unlike a full-time CFO, who you will have to keep paying, a part-time CFO will be paid only for the time their services are needed.
Conclusion
Hiring an external CFO will add depth to your financial management team and ensure that there are no gaps or inconsistencies whatsoever. Fractional CFOs can bring a lot to the table with increased flexibility, productivity, and efficiency.
If you have any questions about SaaS fractional CFOs or fractional controller services, feel free to connect with FinAccountants.