Every successful business needs promoters, individuals, or organizations who play a significant role in beginning and maintaining a business. Promoters generate an idea, initiate the incorporation process, and ensure that the company gets off to a solid start. This blog will review the importance of promoters, the many types of promoters, their responsibilities and functions, their rights, and the liabilities of being a promoter. But first, let's define what promoters are.
Understanding Promoters
Promoters are individuals or entities responsible for conceiving and formulating a business idea, organizing the necessary resources, and laying the foundation for a company's establishment. They play a critical role in the early stages of a company's life cycle, acting as catalysts for its growth and success.
Promoter is defined as follows under Section 2(69) of the Companies Act of 2013:
A person named as a promoter in the prospectus or identified by the firm in Section 92 of its annual report.
A person who has indirect or direct authority over the company's affairs, whether as a director, shareholder, or otherwise.
A person in whose direction, guidance, or orders a company's Board of Directors is accustomed to acting.
Types of Promoters: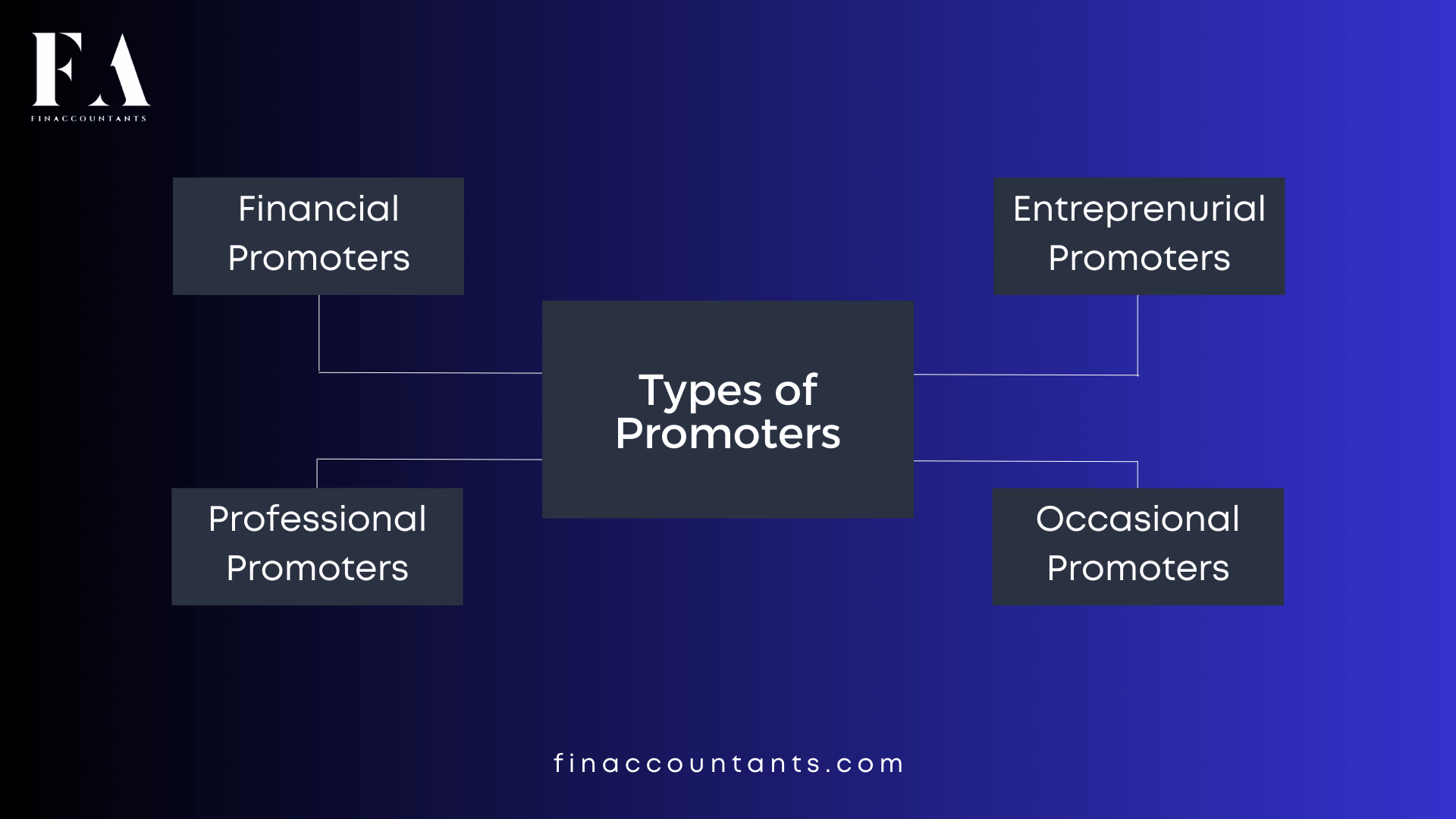 Financial Promoters:
Financial promoters are primarily concerned with supplying the necessary funds for a company's incorporation and early-stage activities. They discover investment opportunities, raise funds from possible investors, and contribute to the company's financial stability.
Professional Promoters:
Professional promoters are professionals in their disciplines, such as law, accounting, or management. They contribute their professional knowledge to the incorporation process, ensuring regulatory compliance and advising on many areas of running the firm.
Occasional Promoters:
An occasional promoter is a promoter whose primary duty is to float a firm. They could also be wealthy individuals wishing to establish their own business. They do not participate in ordinary business promotion because they are in charge of two to three enterprises simultaneously and only become involved in crucial business concerns.
Entreprenurial Promoters:
A person who takes the risk of founding and managing a business is known as an entrepreneurial promoter. They are often motivated by a love of their industry and a desire to be their boss. Entrepreneurial promoters are frequently experts in a specific field, such as marketing, sales, or finance. They are also usually good at networking and relationship development.
Functions of Promoters: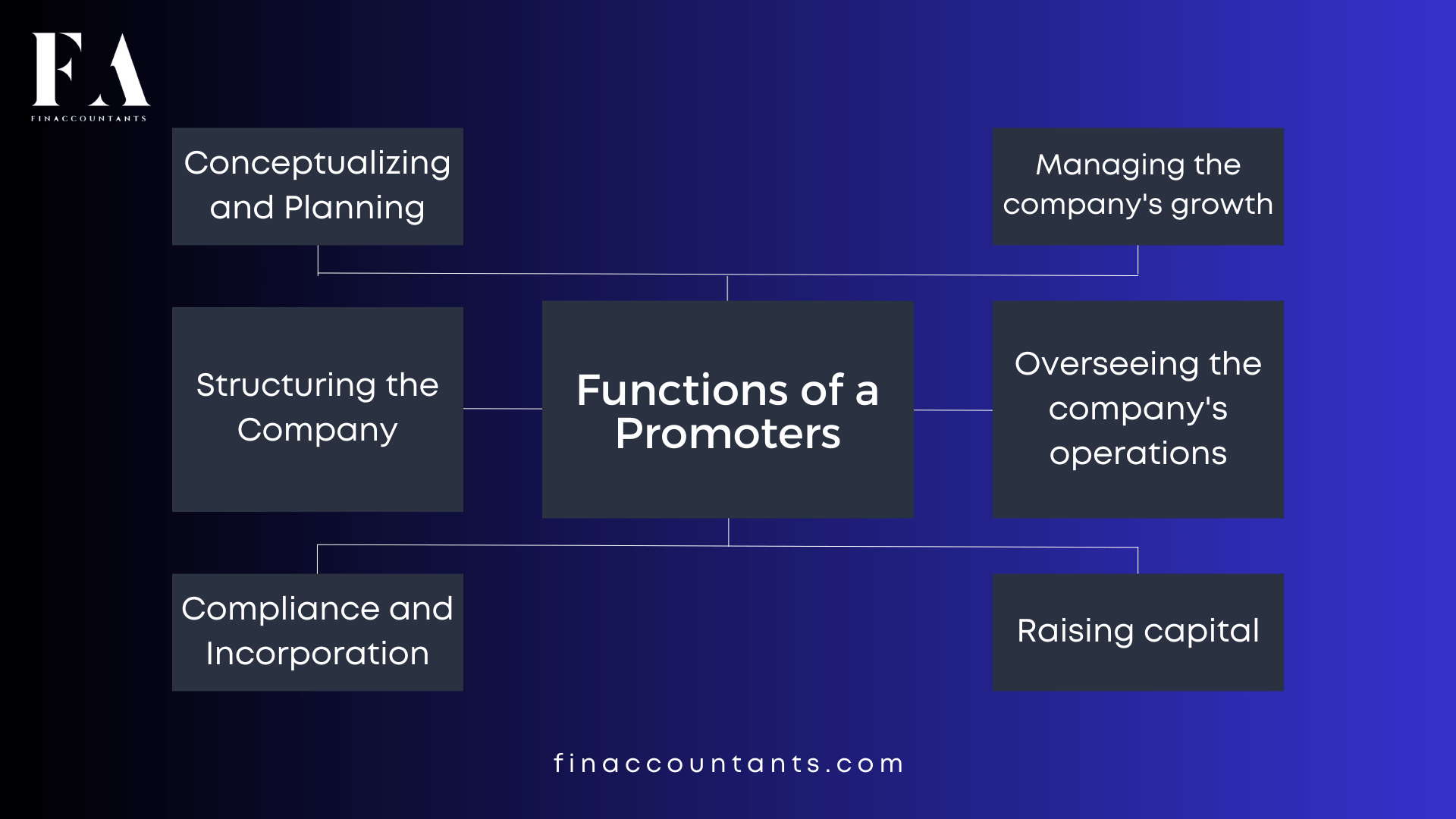 Conceptualizing and Planning: Promoters conceptualize the business idea, analyze its feasibility, and create a comprehensive business plan outlining the company's goals, tactics, and potential hazards.
Structuring the Company: Promoters decide on the best legal structure for the company, such as whether it should be a sole proprietorship, partnership, or corporation. They also determine the shareholding structure and capital structure.
Compliance and Incorporation: Promoters oversee adherence to laws and regulations, gather the necessary paperwork, and assist with incorporation. Writing the Memorandum and Articles of Association and submitting them to the proper regulatory bodies are all included in this.
Raising capital: The promoter is responsible for raising the startup funding. This can be accomplished by various techniques, including selling stock, taking on debt, and applying for government assistance.
Overseeing the company's operations: The promoter manages the company's daily activities, including handling orders, managing inventories, and offering customer support.
Managing the company's growth: The promoter must manage the company's growth, including identifying new opportunities for growth, making strategic decisions, and managing the company's resources.
Duties of Promoters
Indicate any hidden profits: The promoters' first duty is to be loyal to the firm and not engage in wrongdoing. They should not make covert or concealed profits while engaging in promotional activities such as purchasing a property and profitably selling it. They are not prohibited from making such profits; the only need is that they declare them. They must share all profitability and earnings information with all relevant firm stakeholders.
Provide all relevant information: A promoter has a trust and confidence relationship with the company, often known as a fiduciary relationship. Under this fiduciary relationship, the promoter must disclose to all relevant stakeholders all material facts relating to the company's business and establishment.
Do what's best for the business: In all cases, promoters should put the company's interests ahead of their own, and they must consider the company's best interests in its formation and all business operations.
Make all private arrangements public: Private transactions are involved in a lot of company formation and establishment processes. However, the promoters are required to inform the stakeholders of such transactions. The promoters are responsible for notifying the stakeholders of any private transactions and the profit made from them.
Rights of a promoter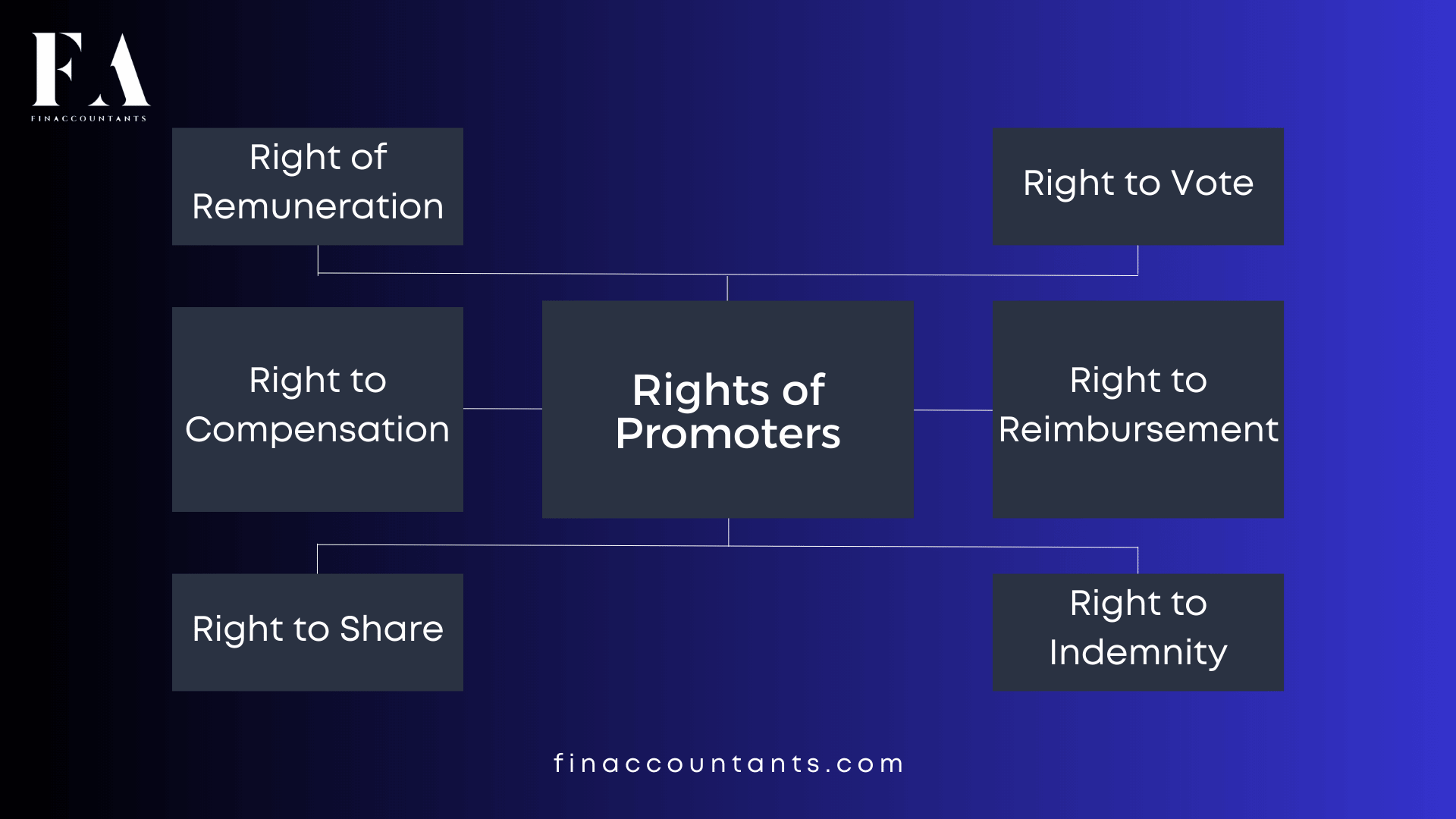 Right of remuneration: Unless there is a written agreement to the contrary, a promoter has the right to compensation from the company. The directors may be allowed to pay the promoters for their services following the company's articles of association. However, absent a contract, the promoters are prohibited from suing the firm for compensation.
Right to compensation: Promoters have a right to fair pay for their work and the services they provided during the company's incorporation and early operations.
Right to share: Promoters may be granted the right to receive company shares as payment for their services. They often receive a predetermined amount of claims based on their contributions to the company's creation.
Right to vote: Promoters may be entitled to vote on matters relating to the company, such as its management, finances, and dissolution. The extent of their voting rights is usually agreed upon in advance and is based on their number of shares.
Right to reimbursement: All reasonable costs incurred in the company's creation must be reimbursed to the promoters, and this covers costs like marketing charges, accountancy fees, and legal fees.
Right to indemnity: Promoters have a right to compensation from the company for any losses or liabilities they suffer as a result of the creation or management of the company. And This covers any losses or obligations brought on by the company's debts, contracts, or torts.
Significance of a Promoter:
They were the impetus for starting the business. The company's founders and those willing to take the risk of starting it up are known as promoters. They are also responsible for securing funding and establishing the business's operations.
They have a stake in the business's success. Promoters frequently own a sizable investment in the industry, making them financially interested in its success. Given that they are the ones who originally put the company together, they are also likely to have a significant emotional interest in it.
They may offer priceless experience and knowledge. Promoters frequently have prior experience working in the sector where the company is active. This knowledge can be incredibly helpful in getting the business off the ground, growing, and succeeding.
They can aid in establishing connections with essential stakeholders. Promoters can assist in establishing relationships with necessary parties, including clients, suppliers, and investors. The success of the company may be depended upon these connections.
Conclusion:
Promoters are the impetus behind a company's conception and establishment. They mobilize resources, give ideas to life, and manage the difficulties of inclusion. We obtain a thorough awareness of promoters' crucial role in determining a company's future by comprehending the many sorts of promoters, their responsibilities and roles, rights, and liabilities. As they begin their entrepreneurial adventures, aspiring entrepreneurs and business enthusiasts should recognize and value promoters' contributions.
At FinAccountants, we know how essential promoters are to launching a successful firm. We specialize in helping business owners realize their goals by offering total support during the formation procedure. With years of combined expertise, our team of experts guides businesses through the complexities of financial structuring, legal and regulatory compliance, and strategic planning.
Beyond the initial setup, we offer additional services. FinAccountants is a valued partner for our clients across the entire business lifecycle because of the continual support we give them as they work through various operational and financial difficulties.
Contact FinAccountants today to see how we can help you set up your company, speed up the incorporation procedure, and pave the road for future success. Let's go on an entrepreneurial adventure together and realize your business goals.