Fintech is the latest buzzword in the financial world, and it is quite happening as well. The paradigm shift is evident as Fintech offers more innovative products and services than conventional banks and financial institutions. It is a win-win for all, as consumers will reap the benefits. Whether it is user experience, price, or improved products, Fintech will have a lot in store for consumers. The Fintech sector in India is still in its early stages, but it is growing at a promising pace. The numbers vouch for the growth of the fintech market in India.
India's fintech market is estimated to reach $200 billion by 2030, and these numbers tell you the story. No wonder an increasing number of fintech technology companies are looking at India.
Opportunities for Fintech Companies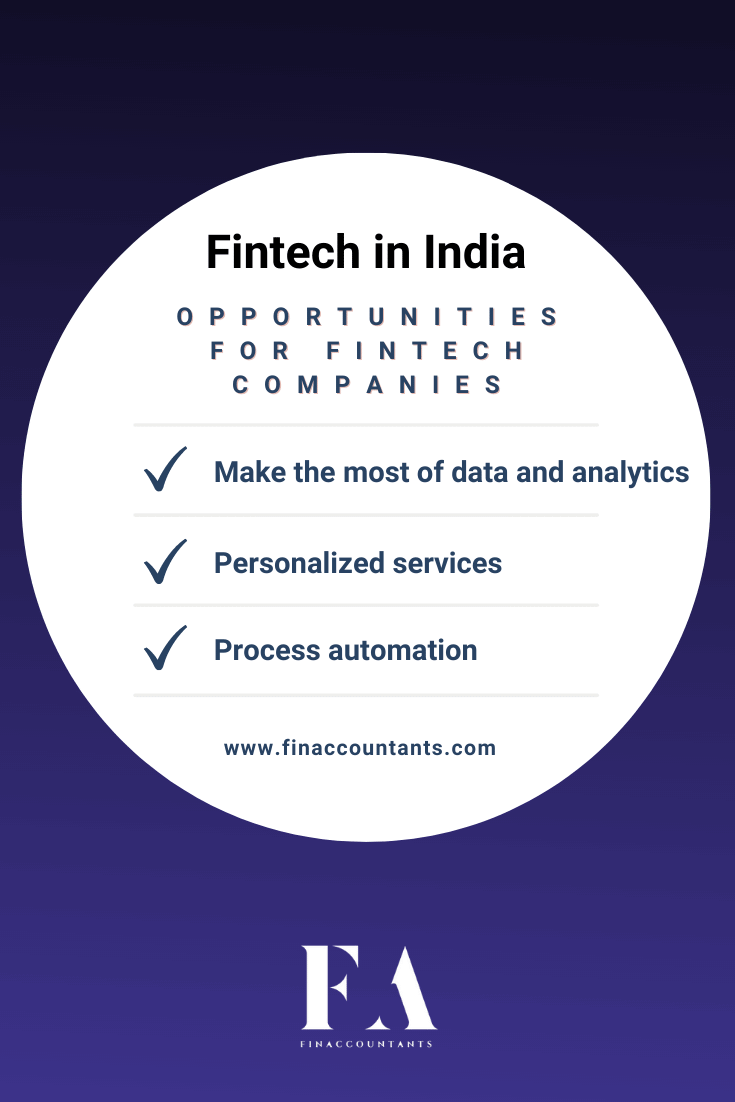 There are opportunities galore for financial technology companies. Tapping into these opportunities will become a breeze through business analytics and report development.
1. Make the most of data and analytics
Big data and analytics go hand in hand. With immense advancements in data and analytics, companies have become significantly competitive. Leveraging big data and analytics helps forecast demands, improve operations, and maximize profitability.
The contemporary data-driven world calls for digitization to the core, and this also presents opportunities galore for fintech startups in India.
2. Personalized services
Personalization has become an essential aspect of contemporary banking. It helps offer customized services or products to customers based on past data. Customized products and personalized services strengthen your relationship with customers.
Institutions were forced to rethink their strategy in a dynamic world that's also highly volatile. Keeping pace with such a fast-paced world and understanding consumers on a personal level enables fintech companies to achieve personalization to a big extent.
3. Process automation
Another major development in the fintech sector in India is robotic process automation. RPA has turned out to be quite effective in transactional management. It facilitates superlative user experience and opens new avenues for financial institutions. Companies offering fintech solutions are very well aware of this fact and deploying Robo advisors.
From customer support to account opening assistance and financial operation management, Robo advisory is sophisticated enough to manage it all with unparalleled agility and efficiency.
Challenges for Financial Technology Companies
If there are opportunities, there are challenges too. Businesses must be ready to address these challenges, which, if not dealt well with, can upset the apple cart. What are those challenges? Let's take a quick look.
1. Compliance laws and regulatory norms
Commencing a fintech startup in India requires you to comply with a myriad of norms that are quite tough to deal with. Due to data theft and fraud, obtaining approval to commence a fintech enterprise is no cakewalk. As an aspiring fintech enterprise, you are required to fulfill almost infinite requirements.
2. Rapidly changing revenue and business models
Formulating effective income and expense strategies is another major challenge faced by fintech startups in India. Altering your business models according to the situation and market trends becomes necessary for fintech technology companies. Economic downturns force many startups to resort to cost-cutting tactics. It could include wage reductions or layoffs.
Similarly, deploying contactless payment methods to keep pace with high transactional volumes becomes important.
3. Better customer experience
One of the major financial services challenges is offering a better customer experience. Let's face it! Fintech procedures change quite dramatically, and that keeps fintech organizations on their toes all the time. Offering a satisfactory user experience is no longer a luxury but a necessity. Conversational UI is a great way to enhance user experience as it is a simulation of communicating with a human being.
Besides, focusing on transparency, accessibility, and simplicity fosters trust resulting in a pleasant user experience.
The Bottom Line
The fintech market in India is booming at an exponential pace, and fintech startup companies in India can use it to their advantage. This lucrative market encapsulating immense possibilities is not going to slow down anytime soon. Like every other industry, it also has opportunities and challenges, and with a robust strategy at hand, the latter can be transformed into the former.