India is a thriving economy with a progressive startup ecosystem. Thanks to the Startup India Scheme launched by the Indian government in 2016. This scheme was rolled out to develop a strong ecosystem that promotes the growth of startups.
Startups can make the most of a lot of advantages offered by the Indian government. Below are the advantages of startup Indian registration.
Benefits of Startup India Registration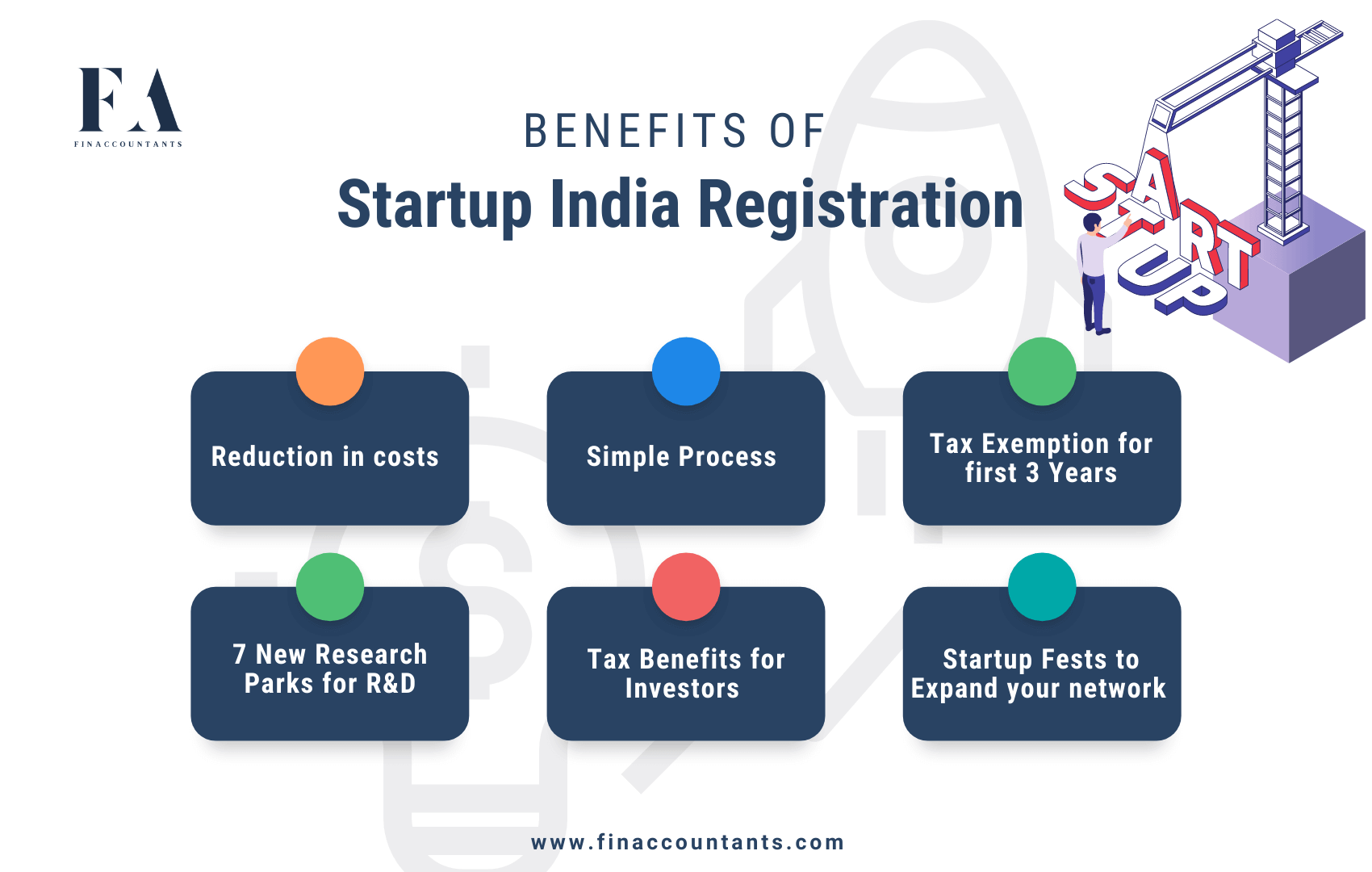 Entrepreneurs are empowered with a plethora of advantages they can leverage to register and foster the growth of their startups. We have compiled a list of the benefits of startup registration.
1. Reduction in costs
The startup India registration process is fairly easy as there are huge rebates given by the government. The startup is only liable to pay the statutory fees, as all facilitator expenses are borne by the government. Also, there is the cost of filing patents is also slashed by about 80 percent.
High-quality intellectual property rights services and quick examination of patents at a reasonable fee are some of the other advantages startups can leverage.
2. Simple process
The startup registration process in India is quite simple and completely online. There is a mobile app as well as a website that could be used for quick and simple startup India registration.
3. Tax exemption for the first 3 years
Tax exemption for 3 years for startups with a certificate from IMB (Inter-Ministerial Board) is another major advantage that drives more and more entrepreneurs to invest their energy, time, and money in startup registration.
4. 7 new research parks for R&D
The government is also in process of setting up 7 research parks dedicated to providing R&D facilities to startups.
5. Tax benefits for investors
Startup India also brings numerous benefits to investors investing capital gains in the government's venture funds. They can avail of special tax benefits, which have turned out to be instrumental in attracting more investors.
6. Startup fests to expand your network
The government has decided to conduct two annual fests both nationally and internationally. These fests will provide immense networking opportunities to meet global entrepreneurs.
The startup registration process in India at a Glance
1. Incorporate your business
First things first! Incorporate your firm as a private limited company or LLP. Submit your application and obtain the certificate of incorporation/registration. You will need to submit the registration application to the ROC (Registration of Companies). To establish a partnership firm, you will need to apply to the Registrar of Firms.
2. Register as a startup
The second step of the startup Indian registration process is registering your firm with Startup India. You can visit the startup India website and key in all the important details for startup India registration.
3. Obtain DPIIT recognition
DPIIT (Department for Promotion of Industry and Internal Trade) recognition will empower your startup with a lot of benefits such as high-end intellectual property rights, relaxation in public procurement norms, self-certification under labor & environment laws, easy exit, and a 3-year tax exemption.
4. Startup Recognition application
Fill in all the important details such as office address, representative information, partners/directors information, startup activities, and self-certification in the Startup India Recognition form and accept the terms & conditions before hitting the submit button.
5. Submit all vital documents for registration
You will need to produce a few key documents for registration which are listed under the following:
Incorporation/Registration Certificate of your startup
Authorization letter of the authorized representative of the company
PAN Number
Proof of funding (if applicable)
Proof of concepts such as pitch deck or website link
Trademark or patent details
Awards or certificates of recognition (if applicable)
6. Get Recognition number
Once you submit all the documents, your documents will be examined. This process doesn't take long, and usually, within 2 days, you get the certification of recognition, depending on the outcome.
You have to be very careful with this step of the startup India registration process, as not uploading the required document or uploading an incorrect/forged document can levy a hefty penalty of 50% of the paid-up capital and a minimum fine of Rs. 25,000.
Most of the documents required for startup registration earlier, such as a letter of funding, udyog aadhar, GST certificate, letters of recommendation, and many others, are no longer needed in the process.
Conclusion
If you are looking to get your startup registered in India, this is indeed the right time as you can make the most of the Startup India Scheme by the Indian government. The process is quite straightforward; however, it is a good idea to consult a professional company to help you with StartUp India registration.
If you have any queries about the process of company registration, feel free to connect with FinAccountants.