Overview
India is the home ground of a large and diverse pharmaceutical industry, with both domestic and international companies operating in the market. The country has a liberal regulatory system and is a leading producer of generic drugs, exporting to over 200 countries worldwide.
While India does provide a large and diverse market, starting a pharmaceutical company in India can be a challenging and time-consuming process, but it can also be a rewarding venture for those dedicated to bringing quality healthcare products to the market.
In this blog, we have outlined the steps involved in starting a pharmaceutical company in India, including the legal and regulatory requirements, the process for obtaining necessary licenses and approvals, and some key considerations for success in this industry.
The process of registering a Pharmaceutical Company in India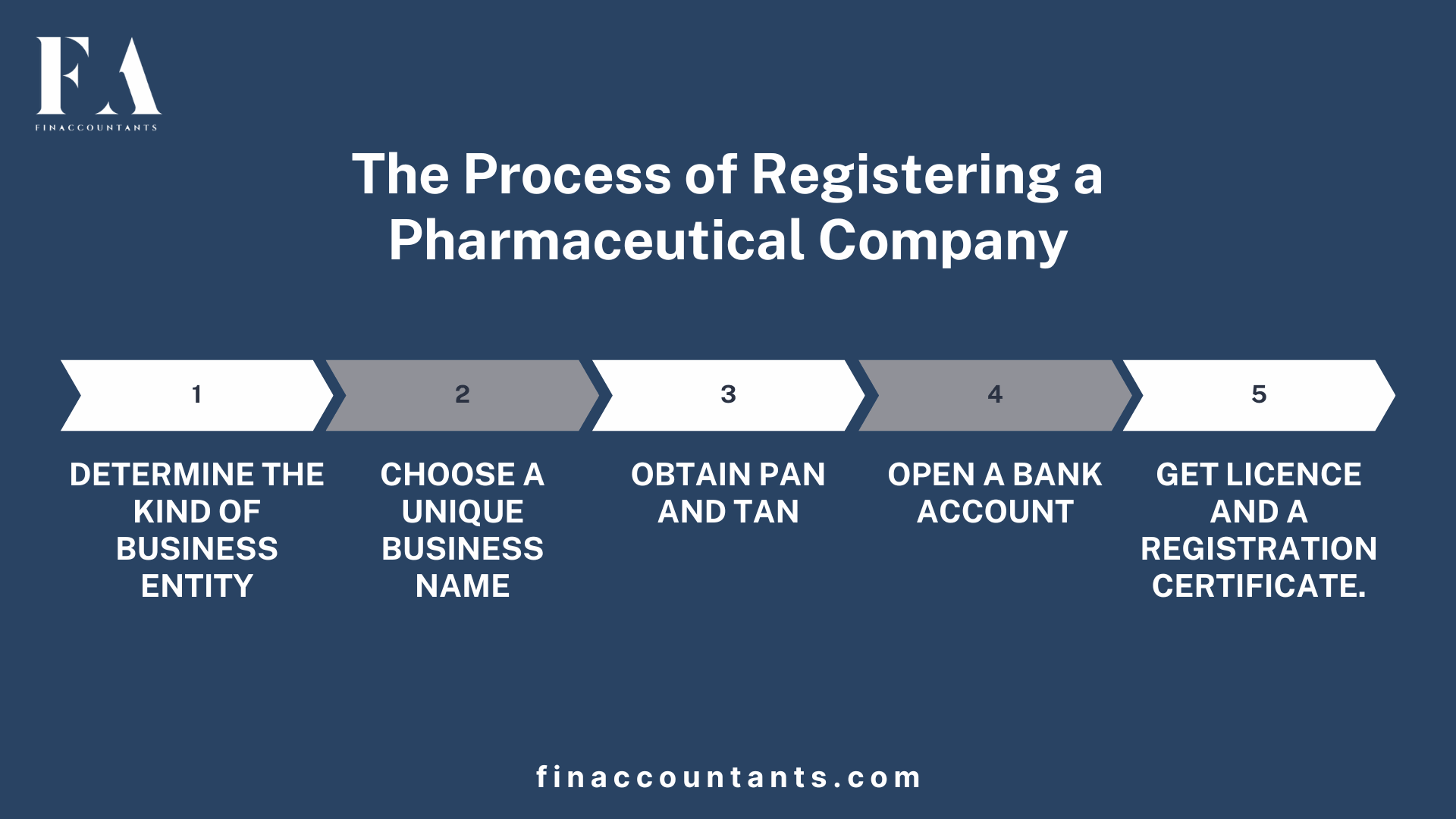 Determine the kind of business entity you want to register for establishing a pharma company. Discover below company entity to register:
Choose a business name and ensure that it is unique and not already in use by another company.
Obtain a Permanent Account Number (PAN) and a Tax Deduction and Collection Account Number (TAN) from the Income Tax Department.
Register the business with the Ministry of Corporate Affairs (MCA) if you are setting up a company or with the local Municipal Corporation if you are setting up a sole proprietorship or partnership.
Open a bank account for your financial transactions to track & monitor. It's necessary to start any business in India.
Obtain a registration certificate and a business license from the local Municipal Corporation.
Documents required to start a Pharmaceutical Business in India
PAN card and TAN card
Business registration certificate
Service tax registration certificate
Drug License:

Distributor Drug License
Retail Drug License
Manufacturing License

GST registration certificate
NOC from the Pollution Control Board
Licenses that are required to start a Pharmaceutical Business in India
1. Drug License
This license is required to manufacture, distribute, sell, or import drugs. It is issued by the state-level Drug Control Department.
2. Factory License
This license is required to set up a factory for the manufacture of drugs. It is issued by the state-level Drug Control Department.
3. GST registration
All businesses in India are required to obtain GST registration.
4. NOC from the Pollution Control Board
This certificate is required to set up a pharmaceutical factory. It certifies that the factory complies with environmental regulations.
Benefits of Setting up a Pharmaceutical Business in India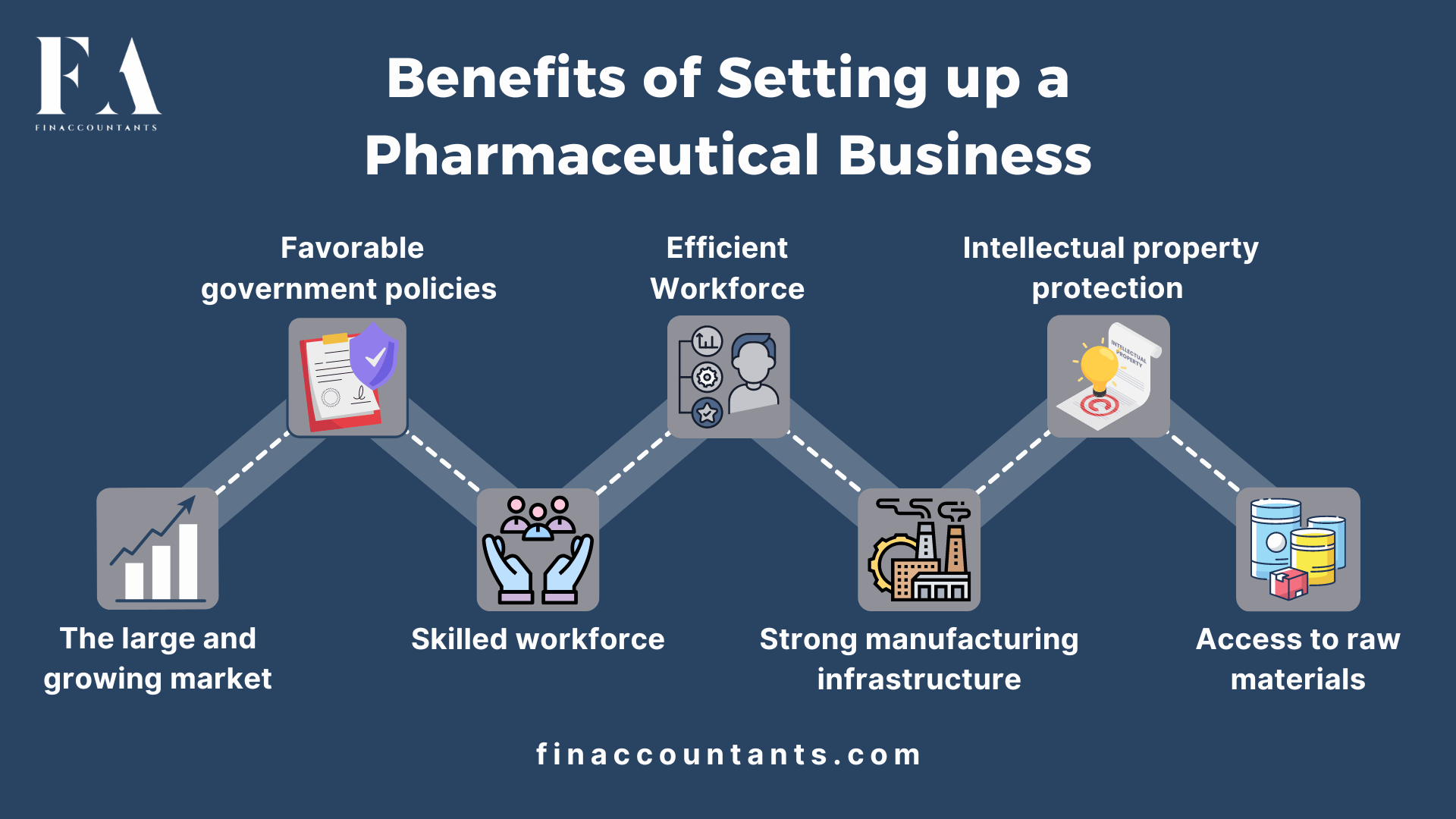 There are several potential benefits to setting up a pharmaceutical business in India, including:
1. The large and growing market
India has a large and rapidly growing population, which means that there is a strong demand for pharmaceutical products.
2. Favorable government policies
The Indian government has implemented several policies to encourage the growth of the pharmaceutical industry, including tax incentives and investment in research and development.
3. Skilled workforce
India has a large pool of skilled and educated professionals, including scientists, researchers, and engineers, who can be hired to work in the pharmaceutical industry.
4. Efficient Workforce
India's competitive labor force offers high-quality work at cost-effective rates due to its expertise and experience.
5. Strong manufacturing infrastructure
India has a well-developed manufacturing infrastructure, with a large number of pharmaceutical companies and a strong supply chain.
6. Intellectual property protection
India has strong intellectual property laws and a robust legal system, which can help to protect a company's intellectual property and assets.
7. Access to raw materials
India has a rich supply of raw materials, including plant-based materials, which are used in the production of pharmaceuticals.
Conclusion
Setting up a pharmaceutical business in India can be a good opportunity for companies looking to tap into the growing demand for pharmaceutical products in the country and take advantage of the favorable business environment.
But it can be quite challenging as well. Having a financial service provider such as FinAccountants as your extended team can greatly benefit in setting up the pharmaceutical company in India by providing expertise in business registration, necessary certificates, legal compliances, accounting, bookkeeping as well as financial management, budgeting, and accurate financial reporting, etc. This can help the company make informed business decisions, stay financially organized, and meet regulatory requirements.
Book a call with our experts to know more about the business setup process in India.